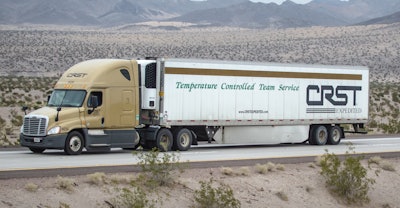 CRST Expedited will face trial in a wrongful death lawsuit after the Wyoming Supreme Court overturned a lower court judgement that sided with the company in the case. The lawsuit was brought by the family of a motorist who struck a parked CRST Expedited truck, killing the car's driver.
On June 8, the justices voted 3-2 to reverse the Carbon County District Court order and remand the case for trial. CRST International General Counsel Lisa Stephenson expects a verdict echoing the court's 2016 decision. "While a narrow majority of the appellate court has determined that a jury must decide the question of proximate cause, CRST is confident that a jury will also reach the conclusion that CRST was not a proximate cause of this accident," Stephenson said.
The 2014 fatality occurred on I-80 east near Rawlins, after the CRST driver parked in the emergency lane and turned on his hazard lights. The trucker had driven the first shift and had just asked his team driver, who had been resting, to drive. Moments later, David L. Crashley's Mazda CX-9 collided with the truck's trailer at highway speed. It is unknown why Crashley left the traveling lanes, hadn't braked or tried to avoid the accident.
A district court judge dismissed his estate's lawsuit against the company and the two drivers after concluding the truck was not the proximate cause of the accident. Chief Justice. E. James Burke wrote the majority opinion reversing that 2016 ruling.
Justice William Hill disagreed, described that opinion as reducing "proximate cause to a single generalized inquiry of foreseeability,"
He noted that the accident occurred about a mile past an off ramp leading to a truck stop, and less than a mile from the next exit. Traffic signs in the vicinity state parking on the shoulder is only permitted in emergencies.
A trial date has not been announced.