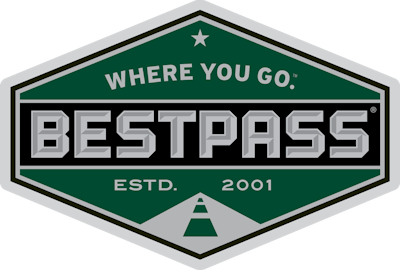 Bestpass, which provides single-source payment/streamlined toll management services to fleets, has been growing significantly in the last two years, adding more than 100,000 deployed toll (and weigh-station-bypass-capable) transponders in each year. The total customer volume has passed the 430,000 mark, getting the attention of the Albany (New York) Business Review's 2018 Fastest Growing Companies program, where Bestpass ranked No. 10.
"We've been in the midst of explosive growth for several years now, and we see every day the impact that we have in helping our commercial customers save time and money on their toll management," said John Andrews, president and CEO of Bestpass.
Also compatible with transponder-based weigh-station bypass systems around the U.S., Bestpass offers users the opportunity to manage toll payments to multiple state and local tolling authorities with one account. By aggregating users, the company is also able to facilitate the maximum-achievable volume discount available.