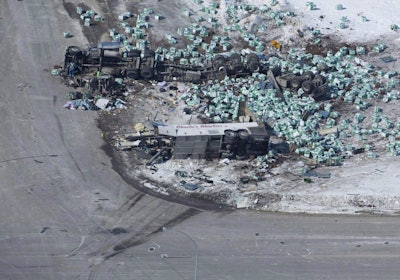 Truck driver criminally charged in Humboldt Broncos crash to appear in court Tuesday https://t.co/ThvBoSi2we pic.twitter.com/BHOpjx9aUZ

— The Globe and Mail (@globeandmail) July 9, 2018
The truck driver involved in the fatal crash earlier this year involving a bus carrying the Humboldt Broncos hockey team has been charged for causing 16 deaths and 13 injuries.
According to the Saskatchewan Royal Canadian Mounted Police, Jaskirat Sidhu, a 29-year-old trucker from Calgary, Alberta, Canada, was arrested July 6 without incident at his home. Sidhu was charged with 16 counts of dangerous operation of a motor vehicle causing death and 13 counts of dangerous operation of a motor vehicle causing bodily harm. Sidhu is scheduled to appear in court for the first time this week.
RCMP says it has conducted more than 60 interviews, taken more than 6,000 photos and analyzed Sidhu's logbooks during its investigation. The agency adds, however, it is not releasing specific evidence about the case because "we must protect the integrity of the evidence and respect the judicial process as this matter is now before the courts."
The crash occurred on April 6 when the Sidhu's truck and the bus carrying the hockey team collided at an intersection in rural Saskatchewan.