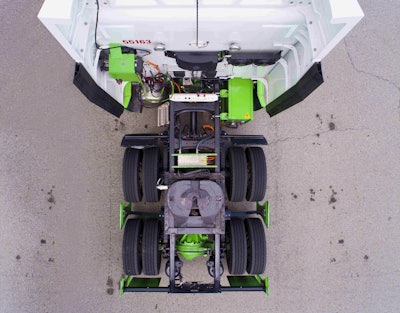 Hyliion, who late last year unveiled a hybrid-electric axle that the company says advances electrification of Class 8 tractors, announced this week that it has acquired the battery division of one of it suppliers, Gentherm.
Hyliion was already using the company's battery system in its 6×4 hybrid-electric axle. Thomas Healy, founder and CEO of Hyliion, says the acquisition provides his company with control over the complete battery management supply chain, from manufacturing and packaging to software development.
Hyliion's axle was designed to capture wasted energy when traveling downhill and applies that power when traveling uphill to keep the engine in its most efficient operating range.
"The path to fully electrified long-haul fleets has many challenges. Long haul semi-trucks average 600 miles a day. Electric semi-trucks, including Tesla's, are restricted by 300 to 500 miles on a single charge," Healy says. "Unless we regrid the entire country to accommodate power consumption with grids as large as entire cities, a hybrid solution is the only answer that makes sense for long hauls."