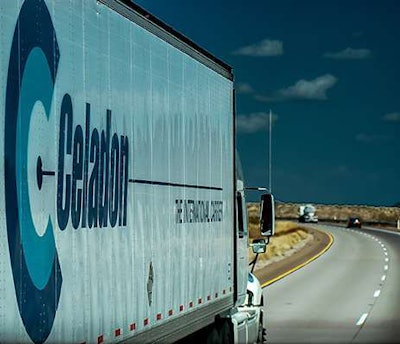 The Celadon Group said this month it is facing a criminal investigation into discrepancies within its required earnings filings. Last year, the company's stock was delisted from the New York Stock Exchange
over improper reporting of financial statements
.
The Indianapolis-based fleet giant, which operates upwards of 5,500 trucks, was already under investigation by the Securities and Exchange Commission over misreported income in its earnings reports for fiscal 2014, 2015 and 2016. The company issued a notice to shareholders in April saying it over-reported its income in those years "by a range of…$200-$250 million."
The company said in April it would reissue corrected earnings reports for those years and 2017 in an attempt to have its stock relisted on the NYSE. However, the company's stock still has not been relisted, and the updated financial reports are not listed on its website or in its SEC filings.
In a press release issued July 3, the company said it "is aware of investigations" by the SEC and "the Criminal Division of the United States Department of Justice into events and circumstances related to the previously announced restatement."
The errors in its financial filings are due to the sale of used equipment by a Celadon subsidiary, Quality Companies. "Undisclosed arrangements…overstated the values of equipment traded" in those sales, Celadon said then. The sales reported by the company were actually equipment leases.
Read more on the company's April notice at this link.
The company restructured its leadership following a $10 million loss posted in the second quarter of 2017. It also said it was restructuring its debt and ending its independent contractor program. It also discontinued the Quality Companies business unit.
Celadon in its July 3 release said its earnings this year are better than the same time last year, noting a 20 percent increase in average revenue per mile — in line with the current record-high rates environment. The company didn't provide any other details on its finances in the release, nor has it posted earnings reports for any quarters since 2017's second quarter.
"Over the past year, with our new senior management team we have disposed of non-core business units, dramatically improved our operating metrics and made significant progress toward issuing restated financial statements," said Celadon CEO Paul Svindland. "Our customers, vendors, and financing sources have been highly supportive, in large part due to improved customer service and the ability to deliver substantial asset based and logistics solutions in a market environment of tight capacity."