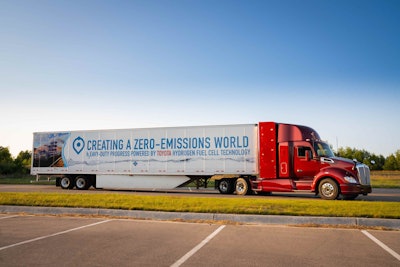 Toyota this week unveiled the second iteration of its hydrogen fuel cell electric Class 8 truck during the Center for Automotive Research (CAR) management briefing seminars in Northern Michigan.
The new truck, known internally as Beta, expands on Toyota's first Project Portal test vehicle by increasing the estimated range to more than 300 miles per fill. Toyota has also added a sleeper cab and a fuel cabinet combination that further increases cab space without increasing wheelbase, according to an announcement. The truck is based on a Kenworth tractor, though Kenworth is not involved in the project.
Toyota's first Project Portal truck has logged nearly 10,000 miles of testing and real-world drayage operations in and around the Ports of Long Beach and Los Angeles while emitting nothing but water vapor. The Beta vehicle will begin drayage operations in the fall, increasing the Ports' zero-emission trucking capacity and further reducing the environmental impact of drayage operations.
With a gross combined weight capacity of 80,000 lb. and a driving range of more than 200 miles per fill, the 670-plus horsepower Alpha truck produces 1,325 ft.-lb. of torque from two Mirai fuel cell stacks and a 12kWh battery. Project Portal Beta maintains these torque and horsepower numbers, while also extending the range of the vehicle and pushing forward on other key performance metrics, according to the company.