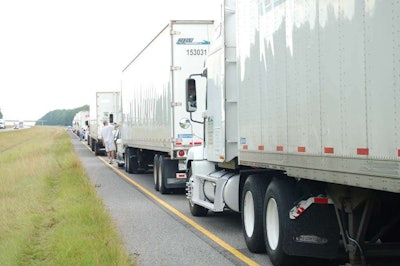 The U.S. trucking industry lost $74.5 billion and 1.2 billion hours due to congestion on highways across the country in 2016, according to new research released by the American Transportation Research Institute.
ATRI's Cost of Congestion to the Trucking Industry update found that congestion costs grew by $377 million in 2016 when compared to 2015. ATRI says 2015's total cost of congestion was updated to $74.1 billion after the initial release of its report. Researchers used GPS data, travel time and more to determine the financial and time costs to the trucking industry.
The 1.2 billion hours lost due to congestion is equivalent to 425,533 trucks sitting idle for an entire year, ATRI says. Additionally, congestion cost each truck on the highway an average of $6,478 throughout the year in 2016.
ATRI notes that congestion costs are mostly concentrated on a small portion of the National Highway System with 86.7 percent of congestion costs occurring on just 17.2 percent of highway miles. These segments cost the trucking industry more than $155,000 per mile in 2016 and are mostly located in urban areas. Congestion in rural areas decreased from 2015 to 2016.
The study also looked at which states, metro areas and counties are costing the industry the most money. The top states by total cost of congestion were Texas with $6.3 billion, Florida with $5.6 billion, California with $5 billion, New York with $4.3 billion and New Jersey with $3.3 billion. The top 10 most congested states accounted for more than half (51.8 percent) of the national congestion costs to trucking, ATRI notes.
When broken down by the cost per the total National Highway System miles per state, Washington, D.C., led the way by far at $1.3 million per mile, followed by New Jersey at $542,941 per mile.
Pennsylvania saw the largest decrease in congestion costs year-over-year with costs falling by $203.5 million in 2016, a 6.6 percent decrease from 2015.
As in previous years, congestion levels were lowest in the first quarter of 2016 and were highest in the third quarter. ATRI notes that congestion costs decreased in the second half of 2016 when compared to 2015's second half.