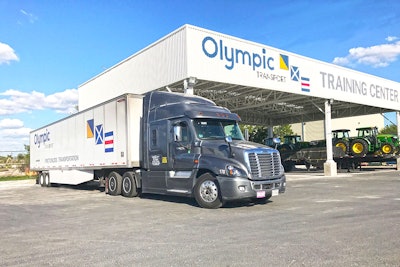 Olympic Transport, a 140-truck Monterrey, Mexico-based fleet that's operated in cross-border operations since 2007, says that despite stigmas of Mexican-domiciled fleets among U.S. carriers and operators, Mexican fleets in the DOT's cross-border program are no less safe than those at U.S. and Canadian operations.
Fernando Paez, owner and chief executive officer, started the company 29 years ago when he traveled to the United States to purchase his first truck at a Freightliner dealership in San Antonio, Texas.
"We heard that Mexican transportation wasn't safe and wasn't up to U.S. standards and that the trucks were in bad state," said Paez about the beginning of the cross-border program. Olympic Transport was the first Mexican carrier to obtain conditional operating authority under the U.S. DOT's cross-border pilot program.
"We were asked to take one of our trucks to Washington D.C. and they put it right in front the [U.S. Department of Transportation] building next to an American truck. They asked the department to find out which was a Mexican truck and which was American, and they couldn't tell the difference."
Today, roughly 95 percent of Olympic Transport's revenues come from its cross-border trucking operation. Eliminating the chain of custody and providing a one-source transportation solution for freight originating from or going into Mexico has provided the company a competitive advantage, but participating in the cross-border program isn't without challenges.
Paez says participation in the cross-border program requires a higher level of order, discipline and driver training but said his company and its drivers operate on a level playing field north of the border.
"The requirements are there to be met," said Paez of the cross-border program requisites. "What we are asked to do as Mexican companies to get into the United States is not different than those asked of American companies."
Read more on Olympic Transport at Overdrive sister site CCJ at this link.