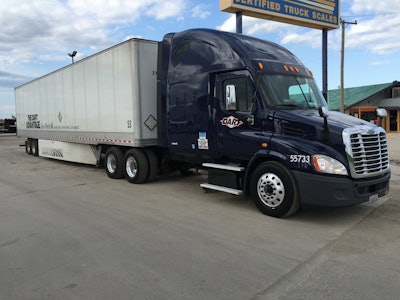 Dart Transit has opened a new operating center in the Atlanta area. Dart's new Ellenwood, Georgia, facility is close to Hartsfield-Jackson International Airport, south of Atlanta, and will provide the company with the opportunity to grow within the region, Dart says.
Prior to opening the new Ellenwood hub, Dart operated from a location in Buford, northeast of Atlanta. The Ellenwood Operating Center is larger than the previous Buford location and includes modern amenities, the company s ays.
Dart's Ellenwood facility has 21,000 square feet. The building has 10,000 square feet of office space, which includes an operations center, conference rooms, a driver orientation area and a drivers' lounge with laundry facilities. The on-site shop covers 11,000 square feet, with a layout that can accommodate simultaneous service on nine trucks and seven trailers. Dart's Ellenwood property encompasses 10 acres, providing ample space for truck and trailer parking. The facility has a state-of-the-art, 24-hour security system.
"We began this project about 15 months ago. It's awesome to see it today with everyone here, especially when you think back on how everything has come together," said Dart Vice President of Maintenance Brett Wacker, who oversaw the company's development of the Ellenwood Operating Center. "We built this with our people in mind. We wanted to provide a nice, comfortable facility, with good amenities and plenty of space. It's been great to see people's reactions as you go through the building."