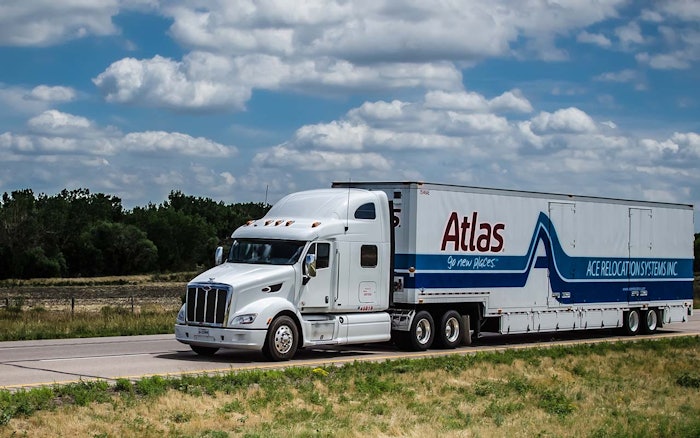 The Department of Defense, which accounts for a whopping 20 percent of the country's household goods shipments, is moving away from its current system for doling out household goods loads to carriers and, by 2021, will adopt a single-source model.
This means a single company — either a brokerage/3PL, an actual household goods line or a new company formed via a partnership between existing van lines — will handle all of the household goods loads coming from the DOD. The DOD moves roughly 400,000 military families a year due to base reassignment and other circumstances.
The DOD made a similar move in 2007 with its Defense Transportation Coordination Initiative (DTCI), which has outsourced a large amount of military general freight to the management of Menlo Worldwide.
The household goods segment broadly speaking is thick with owner-operators, many of them leased to larger van lines and their agent networks. The change likely wouldn't affect their ability to haul household goods loads for the DOD, but it could help keep unscrupulous brokerages from driving down rates, says Joel Summer, a third-generation owner of a household goods mover based in the New York area.
The DOD's current relocation management system had come under scrutiny due to complaints by military families about the timeliness and quality of their household goods movers, as well as claims for lost or damaged goods.
"DOD families have expressed concerns with the quality of service provided, the claims process for lost or damaged property, DOD actions to hold industry accountable, and a lack of transparency regarding industry performance," said Dave Dunn, spokesperson for the DOD's U.S. Transportation Command division. "These complaints have been heard loud and clear, and the DOD agrees with military families that things must change."
Quality and accountability issues aside, the system was also ripe for bilking, Summer believes.
He says entities were setting up shell companies — "paper companies," as he called them — to land household goods contracts with the DOD for its relocation moves. These companies, referred to as transportation service providers (TSPs) by the DOD, were often operated by a larger company, called a moving management company (MMC). The so-called TSPs often had no trucks, no drivers, no assets and no warehouse space, says Summer. After booking contracts with the DOD for household goods loads, the transportation service providers would turn the contract over to the moving management company to then broker out to an actual household goods carrier.
The MMCs would skim the profits off the top and reap the rewards of the government contract while paying sub-prime rates to the actual household goods carriers. The system strained many HHG movers, says Summer, as the cheaper rates offered by the moving management companies weren't enough to sustain business and forced away carriers from the military-based HHG contracts or out of business entirely.
"The MMC is really a broker who controls the military moving industry," Summer says.
And since these companies were landing a large chunk of the government contracts via their shell companies, they were able to control the market and force household goods carriers, many of which are small fleets or owner-operators, to take substandard rates, says Summers.
The DOD has acknowledged this as a problem, he says. But he contends that officials didn't meaningfully address the issue because it's the household goods movers being bilked, not the government.
Summer officially retired from trucking in 2010 but has served as a consultant for other household goods carriers since, including some of the country's largest van lines.
He says a single-source provider will help mitigate some of the unintentional middlemen that the current system, established in 2009, has seemed to encourage. But, given it's a new system itself, it's unclear if it will help secure better rates for the actual household goods movers and better service for military families, he says.
The DOD is holding a three-day meeting at Scott Air Force Base in Illinois March 18-20 to begin taking steps toward a single-source provider. Currently, it's unclear what a single-source set-up would look like, says Summer. "It could be a big logistics company," such as a brokerage or 3PL, who would then build a network of carriers to handle the HHG loads. "It could be one of the large van lines, who have made proposals" to DOD. "Or it could be something like a consortium of a large van line or two large van lines that join together," Summer says.
After the March meeting, he adds, "we should have a much better idea of what this final single-sourcing entity would look like."
In the interim, between now and 2021, the DOD will begin the transition away from the current model to its new model, says Dunn.