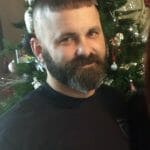 A Louisiana-based truck driver has been recognized as a Highway Angel by the Truckload Carriers Association for stopping and helping after witnessing a vehicle lose control on icy roads and flip multiple times, ejecting the driver and a passenger.
Christopher Lemaire, of Erath, Louisiana, and a driver for Revere Transportation, is a former highway patrol officer who witnessed a crash on Feb. 11 along I-35 in Kansas. He saw a car skidding out of control, which hit a culvert in the median, sending it airborne.
The car hit the ground at an angle, smashing the driver's side window and rolling several times, ejecting two people.
Lemaire stopped immediately and ran to the accident scene, where the driver was standing up and trying to walk, despite likely having a broken leg. He sat the driver down, then rushed over to the passenger. He stayed on the scene until emergency personnel arrived and helped as much as he could.
For his willingness to help, TCA presented Lemaire with a certificate, patch, lapel pin and truck decals. Revere Transportation has also received a certificate acknowledging their driver as a Highway Angel. EpicVue sponsors the Highway Angel program.