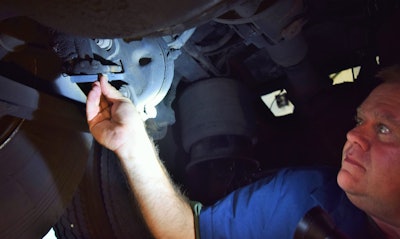 Commercial vehicle inspectors will be on the lookout for brake-related issues next week as part of the Commercial Vehicle Safety Alliance's annual Brake Safety Week.
This year's scheduled inspection spree, set for Sept. 15-22, will focus on brake hoses and tubing.
If the results of June's 72-hour International Roadcheck inspection blitz are any indication, Brake Safety Week may not be a pleasant experience for a number of drivers. CVSA placed a total of 12,019 trucks and 2,784 drivers out of service during the blitz. Braking systems were the top OOS violation, accounting for more than a quarter of OOS violations with 4,578, or 28% of the total. An unannounced brake inspection blitz in May sidelined 1,667 trucks for brake violations.
With a focus next week on brake hoses and tubing, CVSA says these components are essential for the proper operation of braking systems in trucks. Inspectors will be checking to make sure hoses and tubing are properly attached, undamaged, without leaks and appropriately flexible.
Brake manufacturer Bendix offered drivers some tips leading up to the week-long brake enforcement spree.
"Hoses and tubing affect the performance of an entire braking system, so it's important that they're in good shape and free of kinks," says Brian Screeton, Bendix supervisor of technical service training. "Checking their condition, positioning and connections should be a regular part of any visual inspection, both during pre-trip walkarounds and in the shop. Additionally, we recommend that every driver makes performing regular 90- to 100-psi brake applications and listening for leaks part of their preparation before getting on the road."
Other tips from Bendix include:
Daily visual checks for damaged or loose-hanging air chambers, pushrods or slack adjusters. Bendix says slack adjusters on each axle should be extended out to the same angle. If not, it could indicate an out-of-adjustment brake or a broken spring brake power spring.
Weekly checks of air disc brake rotors for cracks and lining wear on drum brakes.
Monthly checks for moisture in the air system. This could lead to deterioration of air seals, brake-modulating valves and brake chamber diaphragms, leading to system leaks, Bendix notes.
Regular greasing of S-cam brake tubes and automatic slack adjusters to prevent rust and corrosion.
As part of pre- and post-trip inspections, drivers should also check the slack adjuster for correct operation, lose or missing hardware, a missing cotter pin, bent or damaged components such as the control arm or attaching anchor brackets, and worn clevises, clevis pins and clevis pin bushings. For more on slack adjuster maintenance, see CCJ Editor Jason Cannon's rundown here.
A more in-depth view of what inspectors will be checking on brakes systems can be seen in the video at the top of this post.