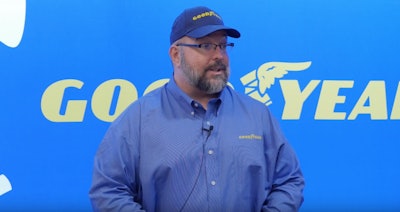 Truck drivers who have put themselves in harm's way to help others while on the job can now be nominated for Goodyear's 37th annual Highway Hero award. Nominations can be made here through Dec. 31.
In order for a driver's nomination to be considered, the driver must meet the following criteria:
Clear background checks to Goodyear's satisfaction
Be a full-time truck driver
Reside in the U.S. or Canada
The incident must have occurred in the U.S. or Canada while the driver was on the job or on the way to or from work and in his or her rig.
The incident must have occurred between Nov. 16, 2018, and Nov. 16, 2019
After the nomination period, Goodyear will narrow the field to three finalists, and a panel of trucking media representatives will select the Highway Hero award winner.
The three finalists will receive expense-paid trips to the 2020 Mid-America Trucking Show in Louisville, Kentucky, where the winner will be announced.
The 2019 winner was Paul Mathias, a Navy veteran who drives for System Transport. He was recognized for his actions at an accident scene in Phoenix in late 2017. He had just stopped his truck at a stoplight when an SUV with a mother and two children inside was making a left turn and was struck by a dump truck. Mathias contacted 911 and then helped the mother and performed CPR on the boy. He checked on a young girl in the car, but she had died. He went back to aiding the injured boy until EMTs arrived.