Trucking news and briefs for Monday, Nov. 4, 2019:
NASTC names 2019 Best Broker and recognizes one among its own
At its Thursday, Oct. 31, dinner and ceremony attendant to its annual conference, the National Association of Small Trucking Companies honored its own Cofounder and Executive Vice President Buster Anderson for his decades as a dispatcher, driver advocate and more. Anderson is NASTC's 2019 Transportation Professional of the Year.
For 30 years the association has been spurred toward a variety of goals by Anderson's influence, NASTC says. "His contribution to [the NASTC] mission and its member companies and their respective drivers has been relentless, powerful and very meaningful, particularly in the areas of fuel, drug testing, membership development and customer service."

During the same Halloween ceremony NASTC also designated its 2019 Best Broker of the Year in Brenny Transportation, perhaps best known for the trucking company of the same name. The company was founded in 1996 because Joyce and Todd Brenny wanted to be part of a company that treated people with respect, they note. Both started their careers in trucking behind the wheel, then in 1996 rented a small office in Waite Park, Minn., with three employees and a big idea.
Both small fleet and brokerage have grown steadily with a bedrock focus on high-level customer service.
Kenworth W990 with custom graphics to transport U.S. Capitol Christmas Tree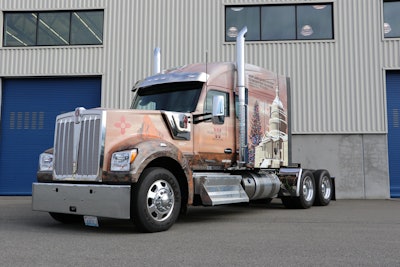 A specially-wrapped Kenworth W990 will transport the 55th U.S. Capitol Christmas Tree from the Nov. 6 tree-cutting ceremony in Carson National Forest in New Mexico to the tree-lighting ceremony in early December on the West Lawn of the U.S. Capitol Building in Washington, D.C.
The theme of this year's one-of-a-kind Kenworth is "Delivering Enchantment." On the side of the hood, the graphics wrap showcases the New Mexico state flag, along with Shiprock, a mountain in the New Mexico desert. On the door and sleeper is the U.S. Capitol Building with a Christmas tree with the wording, "From the Land of Enchantment to Enchanting the Nation."
The truck will be driven by drivers of Wilbanks Trucking Services out of Artesia, New Mexico, and will stop in 30 communities along its 2,000-mile trip. The rig is equipped with a 76-inch mid-roof sleeper, a Paccar MX13 with a Paccar 12-speed automated manual transmission and Paccar 40K tandem rear axles.
Three lanes of I-65 bridge near Louisville, Ky., closing later this week
The Kentucky Transportation Cabinet says the three right lanes of the I-65 South Kennedy Bridge between southern Indiana and Louisville, Kentucky, will close at midnight on Nov. 8 and remain closed until 5 a.m. Nov. 27. Drivers should watch for work signs and slower traffic, the department says.
During the closure, crews will be repairing expansion joints. The left three lanes will be closed in December as part of the same project.