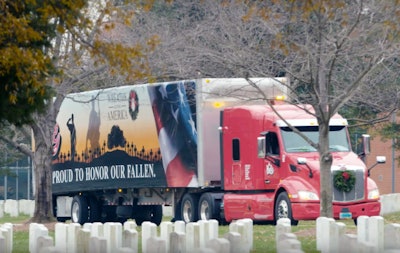 Trucking news and briefs for Tuesday, Nov. 26, 2019:
Wreaths Across America needs drivers for wreath deliveries
The organization that works to ensure there are holiday memorial wreaths on the graves of military veterans is approaching its delivery day and still needs the help of some drivers.
Don Queeney, director of transportation for Wreaths Across America, says the organization needs drivers to make deliveries Saturday, Dec. 14. That is Wreaths Across America Day when wreaths from Maine will be laid on the graves of military veterans at more than 1,600 locations across the U.S. and abroad. Queeney said some 2.2 million wreaths will be delivered to cemeteries and memorials including Arlington National Cemetery near Washington, D.C.
Queeney said the group's efforts require as many as 600 truckloads. Drivers and carriers can volunteer to help here.
Coast-to-coast I-40 enforcement effort begins Wednesday
Troopers in eight states will be out in force along I-40 during the two biggest Thanksgiving travel times – the Wednesday before and the Sunday after the holiday. There will be troopers every 20 miles along I-40 in California, Arizona, New Mexico, Texas, Oklahoma, Arkansas, Tennessee and North Carolina for what organizers call the I-40 Challenge.
Troopers will be out in increased numbers between 10 a.m. and 10 p.m. on Wednesday, Nov. 27, and Sunday, Dec. 1. They will be watching for distracted drivers, seatbelt violations, impaired drivers and speeding in both cars and trucks.
I-195 exit numbers in Rhode Island set to change
The Rhode Island Department of Transportation will start to change exit numbers on I-195 from the I-95 interchange to the Massachusetts border on Monday, Dec. 2. The change is part of RIDOT's multi-year program to update highway numbering for interstates and other limited-access highways.
The new exit numbers will match up with milemarkers rather than the current system of the numbers being sequential. RIDOT will install temporary signs indicating the old exit number and will leave them up for an extended period of time.
Pilot Flying J hosting 'Hauliday Giveaway' event
To celebrate truckers during the holidays, Pilot Flying J is hosting a social media giveaway on Facebook from Dec. 2 through Dec.13. Each day during the event, PFJ will ask a question in a post, and drivers can enter the contest by answering the question in the comments within 24 hours for a chance to win that day's prize. Prizes include power inverters, radios and GPS units.