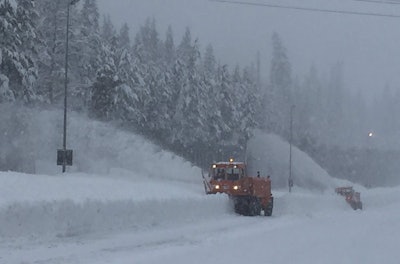 Update – Tuesday, Dec. 3, 8 a.m. Central: State transportation departments in New York, New Jersey and Pennsylvania have lifted all travel restrictions that were in effect as a result of snow and ice caused by Winter Storm Ezekiel on Sunday and Monday.
Original story follows:
Travel restrictions are in place for trucks in several Northeastern states as a result of Winter Storm Ezekiel, which continues to dump snow on the region Monday.
According to Accuweather, storms will continue to impact the region from Delaware up into New England.
Transportation departments in Pennsylvania, New Jersey and New York have instituted speed restrictions in some areas and complete truck bans in others.
Pennsylvania DOT is testing out its new five-tiered travel restriction criteria for the first time this winter. Pennsylvania DOT has issued the following restrictions until road conditions clear:
No empty or double trailers on I-78 Eastbound (from exit 71 to the New Jersey state line); I-80 Eastbound; I-84; I-380; and Pennsylvania Highway 33 (from U.S. 22 to I-80)
45 miles per hour speed limit and right lane only for all other commercial vehicles on I-80 Eastbound (I-81 to New Jersey); I-80 Westbound (Carbon County to Monroe County); I-81 (I-80 to New York); I-84; and I-380
New Jersey has issued complete commercial vehicle banson I-78 and I-80 from I-287 west to the Pennsylvania state line, as well as on I-287 from I-78 north to the New York state line.
Finally, New York has placed issued 45 miles per hour speed advisories on the following highways:
All parkways in the Lower Hudson Valley
I-81 from the Pennsylvania state line to Syracuse
Route 17 from Binghamton to I-84
I-84 (entire length)
I-86 from the Pennsylvania state line to Binghamton
I-88 from Binghamton to I-90
I-99 (entire length)
I-684 (entire length)
New York State Thruway (I-87) between exit 15 and exit 18