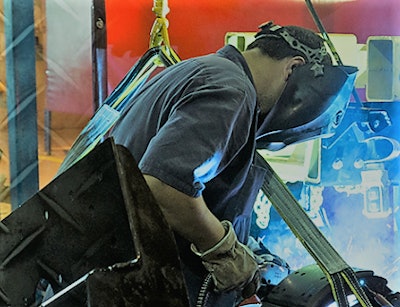 Trucking news and briefs for January 16, 2020:
Senators call for more truck info on popular GPS apps
Three senators from the Northeast are calling on the makers of popular smartphone navigation apps, including Google, Apple and Waze, to add data to help prevent incidents involving trucks striking low bridges on prohibited routes.
Sen. Richard Blumenthal, D-Connecticut, on Monday, Jan. 13, called on the companies to add what he called "commonsense info on highway height, weight, and other restrictions" to their navigation apps so truckers do not enter Merritt and Wilbur Cross Parkways. Trucks are not allowed on the parkways — and those in neighboring New York, Massachusetts, and New Jersey — but some drivers follow the directions on the apps, which don't necessarily show truck restrictions.
In a news conference and separately in a letter sent Monday, Sen. Chuck Schumer, D-New York, and Ed Markey, D-Massachusetts, called on tech giants Google, Apple and Waze to include information that would keep trucks off restricted parkways and reduce collisions with low-bridges.
Joseph Sculley, president of the Motor Truck Association of Connecticut, said he was heartened to see Blumenthal "put a commonsense idea on the table" to address the issue that can be a public relations problem for the trucking industry. Sculley said that while members of the MTAC know to avoid the parkways, the problem is usually caused by out-of-state truckers who may not be using truck-specific GPS units.
"Every time a truck gets stuck [under a low bridge on a parkway] it makes headlines, and the PR is not good for trucking," Sculley said. He said adding the information ought to be easy for the tech companies to do, and his 550-member organization expects to work with others to make it happen. –David Hollis, Truckers News
Upgraded coating for Reyco Granning suspension components
A new and, the company says, superior coating is being phased in on Reyco Granning's suspension products. The new coating will improve corrosion resistance, as well as resist chipping, scratching and gravel damage seen on truck and trailer underbodies.
Samples exceed 2,000 salt spray hours in independent testing, Reyco adds, a feature that could be beneficial given transport agencies' use of ever-more-aggressive de-icing materials. The new coating can be re-coated with most urethane, acrylic or alkyd resin formulated automotive topcoats or it can be used as a finished coat.
Bendix adds Geotab as telematics partner in on-highway vid system
Bendix Commercial Vehicle Systems LLC (Bendix) has added the Geotab telematics/electronic logging device to its group of platforms that can support its SafetyDirect web portal and video system, available for installation on the production line at all of the major OEs, Bendix says. With the integration, SafetyDirect will be available to Geotab-equipped commercial vehicle users, including those deploying earlier versions of Geotab in-cab technology. Rollout has begun, with availability to all fleets expected in mid-2020.
"A Geotab-equipped fleet will be able to transfer SafetyDirect data over that channel," says T.J .Thomas, a Bendix director of marketing and customer solutions. "Our fleet customers spec'ing the Geotab platform have expressed great interest in this capability, and we're excited to provide this solution."
The SafetyDirect system provides not only videos of severe events but give fleet owners/managers "comprehensive feedback on their fleet and drivers," Bendix says, including insights into common driving behaviors and trends across the operation.