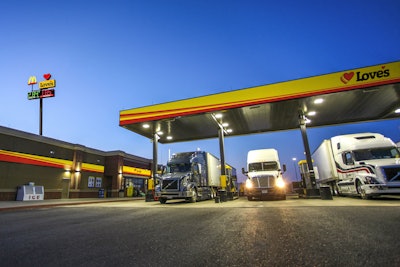 Trucking news and briefs for Thursday, Feb. 13, 2020:
Love's opens three new truck stops with 229 truck parking spaces
Love's Travel Stops this week opened three new locations in Virginia, Oklahoma and Mississippi.
The new Virginia location, in Greenville along Lee Jackson Highway (U.S. 11), offers 85 truck parking spaces, Chester's Chicken and McDonald's restaurants, eight diesel lanes, seven showers, a Love's Truck Tire Care and more.
The new store in Oklahoma, in Watonga along Oklahoma Highway 3, features 50 truck parking spaces, Chester's Chicken and Subway restaurants, four diesel lanes, four showers and more.
Finally, the new Mississippi location is in Flowers off of I-20 and offers truckers 94 truck parking spaces, an Arby's restaurant, eight diesel lanes, eight showers, Speedco and more.
Truckers warned of cargo theft ring in Illinois
The Illinois Department of Transportation and Illinois State Police are warning drivers of thieves targeting truckers at two rest areas on Interstate 80.
A statement from IDOT said, "a theft ring that has impacted the westbound Three Rivers Rest Area on I-80 near Minooka for an extended period. It is now impacting the eastbound rest area as well."
IDOT adds thieves are opening cab doors while truckers are sleeping and stealing their wallets. At the eastbound rest area, thieves are breaking into the cargo areas, according to IDOT.
"We urge truck operators to use extra caution, lock all doors and secure their loads," IDOT added.