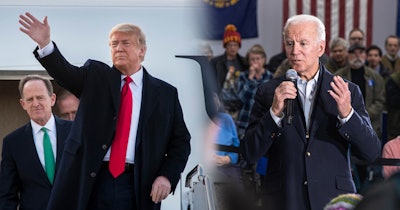 Of the remaining contenders, President Donald Trump is an overwhelming favorite among Overdrive readers in this year's presidential election, according to polling conducted over the past week, with 79% of respondents preferring Trump to the rest of the field. In a distant second was Democratic frontrunner and former Vice President Joe Biden, with 13% of respondents saying they'd vote for him if the election were held today.
Around 5% of respondents said they'd vote for Sen. Bernie Sanders, who's also vying for the Democratic nomination.
Trump's popularity among Overdrive readers mostly mirrors his support among political donors with the trucking industry. Broader than Trump's re-election bid, too, trucking campaign contributions heavily favor Republicans for the 2020 election cycle, according to data compiled by the Center for Responsive Politics and based on publicly available data from the Federal Election Commission.
So far, 79% of campaign contributions designated as from the trucking industry have been made to support Republican candidates, while just 21% has backed Democrats.
Of the $3.5 million in donations from trucking so far, Trump has received the most — $146,331.
Second on the contributions list, however, isn't Biden. Rather, Bernie Sanders holds the second spot, receiving $109,012 so far.
Republicans at large have received $2.7 million in donations from trucking interests, while Democratic candidates have received $728,311.
The figures mirror statistics from election cycles dating back to 1996, with trucking donations to Republicans heavily outweighing those to Democrats.
Other than Trump and Sanders, top recipients include: Jeff Coleman, a Republican running for a House seat in Alabama, who's received $61,900; Rep. Peter DeFazio (D-Oregon), who's received $54,750; Rep. Kevin McCarthy (R-Calif.), who's received $43,495; and Rep. Sam Graves (R-Missouri), who's received $37,000.
Other presidential contenders who've received campaign contributions so far include Democrats who've now dropped from the Presidential race, including Sen. Elizabeth Warren (D-Mass.), who's received $26,649 from trucking-backed interests; Andrew Yang, who's received $25,563; and Sen. Cory Booker (D-N.J), who's received $22,692.
Top contributors include the American Trucking Associations ($320,126), Centra, Inc. ($263,636), Paccar, Inc. ($161,374), Davison Transport ($140,714), Dart Transit ($132,303), Schneider National ($123,725) and the National Tank Truck Carriers ($121,525).
The Owner-Operator Independent Drivers Association has donated $74,000 to political campaigns. Werner Enterprises has contributed $106,221. Crete Carrier Corporation has given $90,906. Knight-Swift has donated $56,969.