In a significant change to federal unemployment benefits, independent contractors and those self-employed will be able to draw unemployment pay should they lose work as social distancing and shelter-at-home requirements related to the COVID-19 coronavirus outbreak erode the U.S. economy.
That pay could be necessary for many owner-operators, if recent Overdrive polling is any indication. Of respondents to a reader survey conducted last week, nearly half reported a negative turn for their business since the COVID-19 outbreak hit the U.S. and the subsequent economic stall began. Just 4% said they'd been laid off by their fleet or had their lease cancelled, but another 19% said demand is "way down" for their service. Another 17% reported they're not working, instead opting to sit home and wait out the crisis.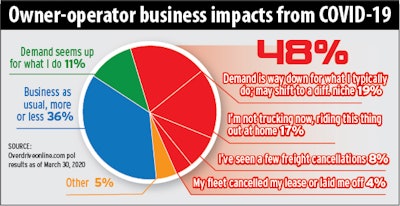 "Haul food if you want to stay in business," noted one independent in commentary under the polling, ongoing at that link.
Rates pressures have in fact been way up in the reefer segment, where high-demand items for grocery restocking are prominent. That's been less the case for dry van and not so much for flatbeds, where demand has generally remained even along with rates, judging by the national averages in recent weeks (though flatbed was up 5 cents/mile for March over slow February).
For other haulers, things have been dire in some instances. Deborah Golden, who runs household goods, put the frightening immediate prospects for her business in stark terms.
"I am a one truck household goods mover, local and national," Golden said. With COVID-19 lockdowns in place, "I am basically shut down for business. All monthly overhead is almost exactly the same, with no income. Financially, this is very scary. After more than 32 years owning my own business, I hope I can continue and not go out of business."
Under the $2 trillion relief package — the Coronavirus Aid, Relief and Economic Security (CARES) Act passed by Congress on Friday and signed into law by President Trump shortly after — both leased and independent owner-operators will be able to file for unemployment pay from the federal government, if early analysis of the bill's language holds.
That would amount to more than $600 a week from the federal Pandemic Unemployment Assistance (PUA) program. In addition to the $600 a week offered through the end of July, self-employed individuals and independent contractors would also receive from the federal government 50% of what their state offers as unemployment pay. Independent contractors and self-employed generally are not eligible to collect state unemployment pay, which is the rationale for the CARES Act's bolstered federal assistance for such individuals.
On the flip side, workers who are eligible for state unemployment (such as traditional company employees) are not eligible for the PUA program, though the federal government is also padding their unemployment by up to $600 a week through the end of July.
Under the PUA, payments would also be provided for self-employed and independent contractors if they quit their jobs for reasons related to the virus outbreak, such as if they contract the COVID-19 illness or if they need to care for a relative who does. That stipulation is meant to benefit those who don't have paid leave from work, such as independent contractors and self-employed individuals.
Stay tuned for further reporting on the CARES Act and its loan-assistance options for employers of all sizes, and more.