Trucking news and briefs for Thursday, May 28, 2020:
DOT distributing masks to truckers
The U.S. Department of Transportation will distribute some 2.1 million cloth masks to truck drivers as part of a larger initiative to distribute masks to transportation workers across the country. The department will distribute approximately 15.5 million masks to various transportation sectors.
"Transportation workers are on the frontlines of keeping our transportation systems operational during this public health emergency and their wellbeing and safety is paramount," said Transportation Secretary Elaine Chao.
DOT says the masks will be secured by the Federal Emergency Management Agency (FEMA) and will be sent out over the coming weeks through the U.S. Postal Service. The breakdown of masks by transportation sector is as follows:
Mass transit and passenger rail – 4.8 million
Aviation – 3.8 million
Maritime – 2.4 million
Freight rail – 2.2 million
Highway and motor carrier – 2.1 million
Pipeline systems – 258,000
Portland, Michigan, rest area to close this weekend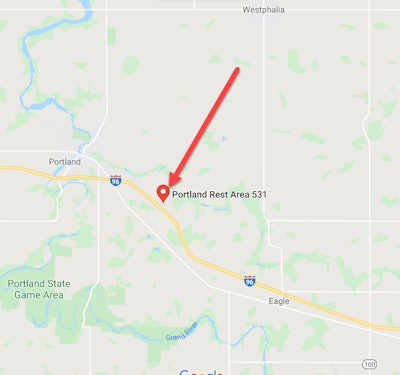 The rest area in Portland, Michigan, along I-96 westbound will close for pavement repairs from 5 a.m. Friday, May 29, through 5 a.m. Monday, June 1.
Highway Angel recognized for helping unresponsive child
Truck driver Chris Delancey, of Vineland, New Jersey, has been named a Highway Angel by the Truckload Carriers Association for quickly responding to pleas for help for an unresponsive child.
Delancey was driving the day after Christmas around 4 a.m. along I-20 heading for Fayetteville, North Carolina, after dealing with serious delays in Atlanta. He pulled off the interstate to use the restroom at a Flying J. On his way back out to his truck, he could hear a man and woman screaming and yelling, "Something's not right. She's not breathing."
He dropped his coffee and ran over to the distressed couple, where he saw a little girl in a booster seat in the back of their car.
"I told them I'm a volunteer firefighter and asked if I could touch their daughter to check her out," Delancey said. "I looked at her eyes but they were unresponsive and showed no dilation."
He pulled her out of the car and laid her down on his rain jacket. He then told the father he was going to do chest compressions and told the man to cover the girl's nose and breathe into her mouth as hard as he could. After several attempts, Delancey still couldn't get a pulse.
Delancey had lost his own daughter at 18 months old to Sudden Infant Death Syndrome. "I saw my daughter's face in that little girl," he shared with TCA. "Something told me to keep on going."
Just as an ambulance pulled up, she took a breath. "It's music to your ears," Delancey said. "Although she had a weak pulse, she was breathing. She opened her eyes and said, 'Daddy.'"
For his willingness to help, TCA presented Delancey with a certificate, patch, lapel pin and truck decals. His fleet, Covenant Transport, also received a certificate acknowledging their driver as a Highway Angel. EpicVue sponsors the Highway Angel program.
Tire pressure systems confidence report updated
The North American Council for Freight Efficiency (NACFE) completed a revision of its originally 2013-produced report on automated tire pressure monitoring and maintenance systems, intended to help guide fleets through the evolution of efficiency-improving technologies and/or identify efficacious opportunities with newer techs.
Since the NACFE's original report was released tire pressure monitoring systems — which monitor pressure and in some cases temperature for each individual tire — have become the enabler of more comprehensive tire management systems.
"The future of commercial fleet tire management is a comprehensive platform. Tractor Automatic Tire Inflation Systems (ATIS) allow fleets to standardize tire inflation pressure across all tire assets—unlocking the cost savings well-known to trailer ATIS adopters," said Judith Monte, vice president of marketing and customer service, Aperia Technologies.
The report identified five types of tire pressure systems: tire pressure monitoring systems, dual tire pressure equalizers, automatic tire inflation systems, central tire inflation systems and passive pressure containment approaches. Tire pressure monitoring systems and automated tire inflation systems are recognized efficiency options in the Greenhouse Gas Emissions Model (GEM) of the Greenhouse Gas Phase 2 regulations. Today, most truck manufactures have some type of tire pressure system that can be spec'd on a new vehicle.