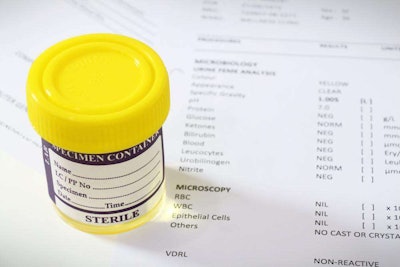 Trucking news and briefs for Wednesday, July 8, 2020:
FMCSA giving leniency in random drug testing requirements
Trucking companies that are having trouble complying with the DOT's random drug and alcohol testing requirements due to COVID-19 are being given enforcement flexibility by the Federal Motor Carrier Safety Administration.
In a notice published Monday, July 6, FMCSA says it "will provide reasonable enforcement flexibility during this unprecedented pandemic" for employers unable to fully comply with the random testing requirements.
The agency says carriers must continue to select drivers at the required rate of 50% of their average number of drivers for drug testing and 10% for alcohol testing during the 2020 calendar year. FMCSA notes that if a test is unable to be completed due to COVID-19, the carrier must keep written documentation of the specific reasons for non-compliance. Carriers should also document actions taken to find alternative testing sites or other testing resources.
Additionally, the agency says carriers who are unable to ensure the dates for administering random drug and alcohol tests are spread reasonably throughout the year should document the specific reasons why that requirement was not met.
Iowa80.com celebrates 20th anniversary with accessories giveaway, redesigned site
This year marks the 20th anniversary for online trucking accessories retailer Iowa80.com. To celebrate the milestone, the company is holding a "What's your 20? Sweepstakes," giving away a variety of truck accessories to truckers who register. The contest runs through July 31 and can be entered here.
The company also launched a redesigned website, which features easier-to-navigate product sections, product comparison capabilities, product videos and links to social media, as well as helpful Truckers Tips blog posts. It also features an expanded search filter that allows shoppers to narrow their search results by truck type, product sub-categories and price.
Love's opens seven new Truck Care with Speedco locations
Love's Travel Stops has opened seven new Love's Truck Care and SPeedco locations that are open 24 hours a day.
The new maintenance shops are at Love's locations in:
Laredo, Texas
Vicksburg, Mississippi
Watertown Township/Grand Ledge, Michigan
Lake Charles, Louisiana
Summerton, South Carolina
Milan, Michigan
Madera, California
Section of I-17 in Phoenix closing this weekend
A section of I-17 Northbound in Phoenix will be closed this weekend while crews begin removing worn asphalt to improve driving conditions north of Dunlap Avenue, according to the Arizona DOT.
The northbound lanes of the interstate will be closed between Dunlap Avenue and Cactus Road from 11:30 p.m. Friday, July 10, through 5 a.m. Monday, July 13.
Traffic will detour along the northbound I-17 frontage road between Dunlap Avenue and Cactus Road. ADOT says heavy backups and delays should be expected.
Drivers should also consider using northbound State Route 51 to westbound Loop 101 (Pima Freeway) or using northbound/eastbound Loop 101 (Agua Fria Freeway) as alternate freeway routes while northbound I-17 is closed.
ADOT has scheduled closures over the next four weekends for pavement work along both directions of I-17 between Dunlap Avenue and Thunderbird Road.