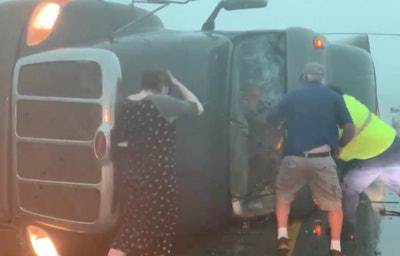 Trucking news and briefs for Tuesday, Aug. 11, 2020:
Midwest windstorm impacts Iowa highways
A rare windstorm that hit areas of the Midwest for approximately 14 hours Monday left debris on a number of Iowa highways, which remain closed Tuesday afternoon.
According to reports, a derecho – a widespread, long-lasting severe wind event caused by severe thunderstorms – hit the upper Midwest from southeast South Dakota and eastern Nebraska and spread through Iowa, northern and central Illinois, southern Wisconsin, southwest Michigan, Indiana and northwest Ohio. Winds in Iowa were recorded as strong as 112 mph.
The highway obstructions in Iowa span from the central part of the state to the eastern part of the state. Impacted highways include:
U.S. Highway 30 Eastbound near Atkins
U.S. 69 in both directions between Alleman and Huxley
Iowa Highway 14 in both directions six miles south of the Laurel area
Iowa 17 in both directions between Madrid and Luther
Iowa 136 Southbound in Clinton
Iowa 136 in both directions in Delmar
Iowa 210 in both directions between Woodward and Madrid
Iowa 922 in both directions in Cedar Rapids
Up-to-date road closure reports for Iowa can be found here.
Winds from a severe thunderstorm caused at least one truck to overturn on Interstate 380. I pulled up and called 911 immediately as these men helped the driver out. The woman in the video is an RN and checked on the driver who seems to be fine before taking him to her vehicle. pic.twitter.com/UjkvehavUc

— Andy Abeyta (@andy_abeyta) August 10, 2020
Trucking company owner, employee indicted for CARES Act loan fraud
Hubert Ivan Ugarte, the owner of Utah-based Frisbu Trucking and several other trucking companies, and Lisa Bradshaw Rowberry, a Frisbu employee, were indicted for conspiracy, removal of property to prevent seizure, loan application fraud, wire fraud and money laundering.
According to the Department of Transportation Office of Inspector General, the charges are related to a loan they obtained under the Payment Protection Program (PPP), a provision of the COVID-19 relief CARES Act.
Ugarte was previously indicted in October 2019 on wire fraud and money laundering charges. Relative to that indictment, a court authorized the seizure of 41 tractor-trailers used by Ugarte, one of which was involved in an accident and resulted in an insurance claim check being issued.
According to the most recent indictment, Rowberry deposited the insurance claim check into a bank account in the name of Frisbu Trucking. The company allegedly used the funds from the claim to cover its payroll. The indictment alleges the insurance proceeds were subject to forfeiture and that the deposit was made to prevent or impair the federal government's authority to seize the money.
Additionally, in April and May 2020, the pair allegedly made false statements in a load application in the PPP provision of the CARES Act. OIG says they allegedly falsely conveyed that the business owner was not under indictment and did not reveal that he had entered into a felony drug possession pretrial diversion agreement. The indictment also charged the pair with wire fraud and money laundering related to a $210,000 payment made in relation to the PPP loan.
Canadian husband-wife team named Highway Angels for helping crashed motorist
A husband-wife team from Notre Dame Du Mont Carmel, Quebec, Canada, have been named Highway Angels by the Truckload Carriers Association for helping a driver who fell asleep at the wheel and left the roadway.
Patrick Leblanc and Nathalie Rivard were traveling across Trans-Canada Highway 1 West around 1 a.m. on April 27 near Bassano, Alberta, when Leblanc saw a pickup on the side of the road lying on its side.
After pulling to the shoulder, Leblanc and Rivard hurried to check on the driver. Another truck stopped, and Leblanc asked the driver to call 911. He then checked on the pickup truck driver.
"He was in a state of shock, and his left arm was cut and bleeding," Leblanc said. "He didn't know where he was."
The passenger side of the pickup was completely smashed, and everything in the truck, including the driver's phone, had gone through the windshield. Leblanc and Rivard gave the driver water while they waited for help to arrive.
"The pavement was dry," Leblanc said. "The driver must have fallen asleep and when he hit the soft shoulder, that woke him up, but it was too late. He probably turned the steering wheel too hard and that caused him to flip over."
The next morning, the couple received a call from the driver's wife, who told them the driver had needed 15-20 stitches, but he would be fine.
Leblanc has been driving a truck since 1998 and has been with Challenger Motor Freight since 2007. Rivard has been driving for 10 years, and she and Leblanc have been driving together for eight years.
For their willingness to help, the team received a certificate, patches and lapel pins. Their employer, Challenger Motor Freight, also received a certificate acknowledging their drivers as Highway Angels. The Highway Angel program is sponsored by EpicVue.