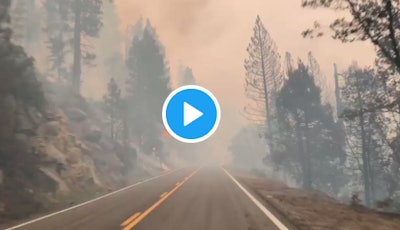 Trucking news and briefs for Wednesday, Sept. 9, 2020:
Record-setting West Coast wildfires force highway closures
Sections of many highways up and down the West Coast are closed as record-setting wildfires spread from California into Oregon and Washington. According to the California Department of Forestry and Fire Prevention (Cal Fire), a record number of acres have been burned so far this year (2.5 million-plus acres) with another four months left in this year's fire season.
According to CalTrans, the following highways in California are closed due to wildfires:
U.S. Highway 101 in both directions north of Willits, from Quail Bridge overpass to Shimmins Ridge Road
U.S. Highway 199 in both directions from the junction of California Highway 197 and U.S. 199 North to the Oregon state line
California Highway 1 in both directions from Ragged Point Viaduct to Pfeiffer Burns State Park
California Highway 96 in both directions from 9.6 miles west of Happy Camp to 3.2 miles west of Seiad Valley
California Highway 130 in both directions from Quimby Road to Santa Clara/Stanislaus county line
California Highway 168 in both directions from Auberry/Morgan Canyon/Park and Ride to East End of Huntington Lake
California Highway 236 in both directions from Oak Avenue to California Highway 9
Oregon's TripCheck lists the following highways as closed due to wildfires:
U.S. Highway 199 (Redwood Highway), two miles north of O'Brien from milemarker 34 to 41
Oregon Highway 99 is closed between milemarkers 9 and 17
Oregon Highway 138 is closed one mile west of Glide between milemarkers 16 and 83
Oregon Highway 213 is closed at the intersection with Oregon Highway 211
Oregon Highway 224 is closed between milemarkers 18 and 50
Oregon Highway 242 is closed between 85 and 55
Oregon Highway 422 at the intersection with Oregon Highway 62 from milemarker 0 to 5
Finally, the Washington State DOT reports the following highway closures due to fire activity:
Washington Highway 173 in both directions from milemarker 2.5, just west of Bridgeport, to milepost 11 at Brewster
Washington Highway 410 in both directions between milemarker 13.37 near 181st Ave East and milemarker 11.46 near 166th Ave East
8AM: This was our view driving towards Huntington Lake. The #CreekFire is burning at 78,000+ acres and 0% containment. #CaliforniaFires pic.twitter.com/HsIeHd1LAW

— Michael Ikahihifo (@Mike_Ikahihifo) September 7, 2020
---
---
ITI launches new training for upcoming HOS changes
Instructional Technologies Inc. (ITI) created a new driver training resource for the changes coming to the hours of service rules on Sept. 29.
The offering includes an updated Pro-Tread Hours of Service online course, a free training video that covers the changes in driving regulations, a webinar discussing practical applications, and a printable poster to provide information on the new rules to drivers, managers and dispatchers.
Current ITI clients can assign, track and document course completion with ITI's Sentix learning management system. Fleets that are not clients can access the course free as a video, but it will not include documentation of completion.
ITI is also hosting a live 30-minute webinar at 10 a.m. PDT on Tuesday, September 15 with ITI's Senior Training Specialist Roy Broomfield. Registered participants will also have access to a video of the presentation.
Free lunch Sept. 14 at Tennessee weigh station
Employees from Great West Casualty Company's Knoxville, Tennessee, office will join the Tennessee Trucking Association on Monday, Sept. 14, to host a Truck Driver Appreciation event to say 'thank you' to America's truck drivers.
Great West will provide 300 free lunches and goodie bags for drivers from 11 a.m. to 2 p.m. at the Tennessee DOT weigh station on I-40 Westbound west of Knoxville.