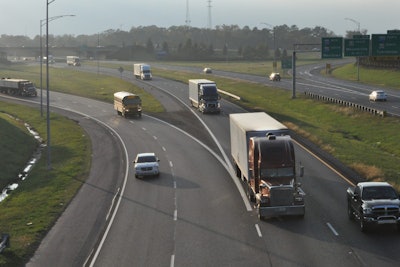 Trucking news and briefs for Tuesday, Nov. 10, 2020:
Senate transportation funding bill keeps livestock haulers' ELD exemption
The U.S. Senate on Tuesday released the text of a transportation funding bill that funds the U.S. Department of Transportation through the 2021 fiscal year – until Sept. 30, 2021 – as part of a slate of funding bills Congress' upper chamber looks to pass in the current lame-duck session to ward off a government shutdown. The government is currently funded through Dec. 11 via short-term stopgap funding bill, so lawmakers must pass a bill by then, even if another short-term spending bill, to prevent a shutdown.
Of note for trucking, the DOT funding bill includes a continued waiver of the use of electronic logs for truckers hauling livestock and bees. The House has not put forth a DOT spending bill since passing a set of bills in July, though it did not include that livestock waiver.
New York again cracking down on low-bridge strikes
New York is cracking down once again on commercial vehicles that hit some of the bridges in the state, especially those on many of the parkways in the New York City metropolitan area.
To prevent such bridge strikes, the New York State Police, the New York State Department of Transportation, and the Governor's Traffic Safety Committee launched an enforcement and education effort that runs through Sunday, Nov. 15. New York averages about 220 bridge strikes per year, resulting in the potential for injury for the truck driver and nearby motorists, costly repairs to the bridge itself, and substantial traffic disruptions. There have been more than 1,100 bridge strikes on New York roadways since 2015, according to the state.
The enforcement/education effort comes just as the state completed a $3.8 million bridge replacement project of the Old State Road Bridge over the Thruway in Albany County. The overpass bridge, located between Exit 24 (Albany – I-87) and Exit 25 (Schenectady – I-890), had been the subject of numerous over-height truck hits throughout the past several years. The new bridge height will prevent similar incidents in the future with an increased clearance of 16 feet, 6 inches for traffic traveling on the Thruway.
As part of this week's enforcement effort, state troopers will focus active patrols in areas where there have been documented bridge strikes by large commercial vehicles. These bridge strikes are most likely to occur on roadways with low railroad bridges, and on New York State Parkways. Commercial trucks are banned on parkways, but operators guided by consumer-grade GPS devices can end up on parkways, and when that occurs a bridge strike is inevitable. Consumer GPS devices do not include information about low bridges, and truck drivers are required to instead use commercial-grade GPS systems which provide details about low bridges and restricted routes.
New fines and penalties for those driving commercial vehicles on New York State parkways went into effect Sept. 3. Penalties for commercial vehicles on parkways are broken down by weight class, and there are also penalties for over-height vehicles. The maximum fines and penalties for trucks over 26,000 pounds are:
First violation – $700 and/or 15 days in jail
Second violation within 18 months – $1,500 and/or 45 days in jail
Third or subsequent violation within 18 months – $2,000 and/or 90 days in jail
New fines and penalties for over-height vehicles include:
First offense – $1,000 and/or 30 days in jail
Second or subsequent offense – $2,000 and/or 60 days in jail
Cargo Transporters set to raise driver pay
Cargo Transporters announced it will raise solo driver pay by 2 cents per Rand McNally practical mile on all dispatched miles, increasing starting base pay to 50 cpm, effective Jan. 3, 2021.
Team driver pay will increase 1 cpm on all dispatched mile, the company added.
Drivers with Cargo Transporters are also compensated for more miles driven since the carrier calculates pay based on Practical Route miles instead of industry standard Household Good (HHG) shortest miles used by most trucking companies. Practical Route miles are on average 8% higher, the company said. In addition, all drivers receive holiday and vacation pay, and have the potential to earn a productivity bonus. Combined, these are equivalent to an additional 5 cents per mile.