Trucking news and briefs for Thursday, Dec. 10, 2020:
First Kenworth fuel cell electric trucks to be delivered this month
The first two fuel cell electric Kenworth T680 trucks built under the Zero and Near Zero Emissions Freight Forwarding project will arrive at the Ports of Los Angeles and Long Beach this month.
Toyota Logistics Services and Southern Counties Express each will receive a Toyota fuel cell powered electric drivetrain T680 tractor for use in drayage operations in the ports of Los Angeles and Long Beach.
Another eight trucks will be delivered in 2021 as part of the program. Three trucks will go to UPS for its port operations, two will go to Total Transportation Services, and Toyota Logistics Services will receive three additional trucks.
Development of the Kenworth T680 FCEV is part of a $41 million Zero and Near-Zero Emissions Freight Facilities grant awarded by the California Air Resources Board, with the Port of Los Angeles as the prime applicant. CARB has awarded those funds to the Port of Los Angeles for the ZANZEFF project as part of California Climate Investments, a California initiative that puts billions of Cap-and-Trade dollars to work reducing greenhouse gas emissions, strengthening the economy and improving public health and the environment.
Two new Love's open in Texas, Florida
Love's Travel Stops opened two new stores in Amarillo, Texas, along I-40, and Baldwin, Florida, along I-10. Combined, the new locations add nearly 200 truck parking spaces to the company's network.
The Amarillo store features 100 truck parking spaces, Godfather's Pizza and Subway restaurants, seven diesel bays, five showers and more.
The new Florida location offers 94 truck parking spaces, Godfather's Pizza and Bojangles restaurants, nine diesel bays, nine showers, a Speedco and more.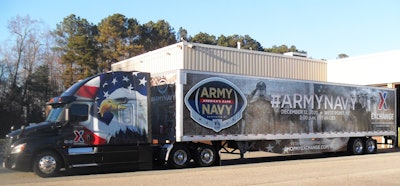 Army & Air Force Exchange commemorates Army-Navy Game with trailer wrap
The Army & Air Force Exchange Service is celebrating the annual Army-Navy football game with a special truck design celebrating the rivalry's 121-year history.
The truck wrap will be unveiled at the game on Dec. 12, and features black-and-white images of Cadets and Midshipmen. The Exchange, the Department of Defense's largest retailer, has been a participating partner in the Army-Navy Game presented by USAA since 2018.
The truck will be at the Army-Navy Game and serve as a 53-foot billboard for the Exchange's support of the game and the Services. After the game, the truck will hit the road, delivering merchandise from the Exchange's Dan Daniel Distribution Center in Newport News, Virginia, to Exchange stores throughout the eastern United States.