Trucking news and briefs for Thursday, Nov. 11, 2021:
PS Logistics makes fifth acquisition of 2021
DMT Trucking, a subsidiary of Birmingham, Alabama-based PS Logistics, has acquired Broken Bow, Oklahoma flatbed operation Daryl Thomason Trucking.
Founded with one truck in 1978 by Daryl Thomason and his wife Shelly, Daryl Thomason Trucking has amassed a fleet of 108 trucks and 167 53-foot flatbed trailers in the decades since. The transaction bolsters PS Logistics' operations in the Southwest and provides additional terminals in Broken Bow and Nashville, Arkansas.
"We are proud to welcome Daryl Thomason and his great company to the PS Logistics family" said Scott Smith, chief executive officer and co-founder of PS Logistics. "We look forward to working with their great flatbed drivers and operations group, while continuing their top-notch customer service."
The combination of Starke, Florida-based DMT Trucking and Daryl Thomason Trucking provides PS Logistics with further inroads to the 53-foot trailer market and the ability to enhance its over-length service to existing and future customers, the company said.
"I have known the PS Logistics team for many years, and I am happy to be partnering with them," said Daryl Thomason. "Over the last four decades, we built a successful flatbed trucking operation serving outstanding customers with dedicated employees and we will strive to continue that tradition with the same commitment to excellence."
PS Logistics has acquired and integrated 22 trucking and logistics operations since 2014, including five just this year.
Trucker recognized as Highway Angel for helping motorist, young girl in traffic backup
The Truckload Carriers Association has named Taylor Truck Line driver Stuart Cole from Jackson, Mississippi, a Highway Angel for looking after a fellow motorist and her young daughter as they waited for hours for a serious multi-vehicle accident to clear ahead of them.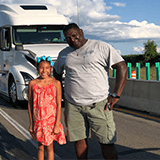 Patience was the order of the day early one morning on I-80, the Ohio Turnpike. It was around 5 a.m., and as Cole neared the Indiana state line, traffic slowed to a stop.
"I thought it was because of the road construction," he said. "There was only one open lane."
Little did he know that a nine-vehicle accident had occurred a mile up ahead involving six trucks and three passenger vehicles. Cole was in for a long wait – an almost seven-hour wait.
"There was nowhere to go," he recalled as concrete barriers lined both sides of the lane.
A woman who was stopped near Cole was traveling alone with her 10-year-old daughter on their way home to Nebraska.
"I noticed he was such a safe driver on the interstate, truly adhering to posted speeds and maintaining great distance," the woman wrote in a letter to Taylor Truck Line. "I wanted to compliment him personally but didn't want traffic to restart when I was out of my vehicle. Well, after 80 minutes at a standstill, I figured it was safe."
She said Cole offered her and her daughter food and water.
"Later, he even gave us a large towel for some privacy when my daughter had to use a bathroom," she said. "He was so nice and generally reassuring in such a strange predicament. He truly helped myself and my daughter feel safe on the road. I will continue to speak highly of both him as a driver and your company. Thank you!"
Cole told TCA that the woman was stopped several vehicles ahead of him.
"She got out first and walked back to my truck," he said. "We started chatting. Other people were getting out to walk around or walk their dogs. Some walked up to the scene of the accident and came back to report what they saw."
Cole cautioned the woman to be careful. He offered her bread and sandwich meat that he had in his cab's refrigerator.
For his willingness to assist, TCA has presented him with a certificate, patch, lapel pin, and truck decals. His employer also received a letter acknowledging their driver as a Highway Angel.
Love's opens new Missouri location
Love's Travel Stops has opened a new location in Bates City, Missouri, that adds 107 truck parking spaces to its network.
The store, located off I-70, also offers Chester's Chicken, Godfather's Pizza and Subway restaurants; eight diesel bays; seven showers; laundry facilities; and more.
The location is the 19th Love's to open in Missouri.