Trucking news and briefs for Thursday, Jan. 27, 2022:
Open deck-focused brokerage HTL Freight acquires 3PL to expand offerings
Charlotte-based brokerage HTL Freight has acquired Wilmington-based 3PL Matchmaker Logistics.
The acquisition gives HTL Freight – historically an open deck-focused brokerage – expertise and access to dry van and drayage solutions across North America and Canada. Partner carriers will similarly have access to a base of customers that ship a wide variety of essential goods that are core to numerous industries and infrastructure sectors, the company said.
"We are bigger but most importantly better for our customers, given the combined capabilities of the two companies," said HTL Freight CEO Onu Okebie.
Founded in 1981, Matchmaker Logistics serves a client base in a variety of industries including chemicals and specialty materials. HTL Freight, formerly known as Heritage Trucking, has been a North American flatbed freight specialist for more than four decades.
"Having run my family's business for over 30 years, it was important to me to safeguard our shippers, carriers, employees, company culture and values for the future," said Bob Skane, President of Matchmaker Logistics. "HTL's vision aligns with how I see Matchmaker growing to serve our loyal customers and dedicated employees, and I know we have found a perfect match."
The acquisition will increase HTL Freight's footprint nationwide, allowing the company to offer additional freight solutions to all supply chain partners. HTL's shippers will now have direct access to dry van solutions across the United States and Canada while the carrier base will benefit from increased asset utilization with more connecting lane and equipment type options.
[Related: 'Quick POD?' It's high time for a new accessorial when dealing with certain brokers]
FleetPride acquires Louisville truck service center
FleetPride announced this week that it has acquired the assets of Nationwide Truck Service of Louisville, Kentucky.
Founded in 1989 and owned by Eric Adkins, Nationwide Truck Service offers a wide range of repair services from its 21-bay facility and mobile repair units in addition to 24/7 roadside support. The Service Center at 355 Farmington Ave. will team up with the existing FleetPride parts branch at 4670 Jennings Lane in Louisville, creating a complete value proposition for customers. Adkins and his son Jake will remain involved in the day-to-day operations.
"This is an outstanding opportunity for our valued customers and our team," Adkins said. "Our customers will appreciate the access to a nationwide network of parts and service, and our employees will have the ability to grow and advance in FleetPride's new service organization."
New two-piece tensioner for Detroit 13/15-liter engines
Engine products and drive systems supplier Dayco announced that, despite industry-wide supply chain challenges, its new heavy-duty two-piece tensioner is stocked and ready for orders. The tensioner, designed to help address significant repair issues for Detroit Diesel 13 and 15 series engines, cuts installation time significantly, the company said. Dayco's technical team has developed a step-by-step installation video and 1-page technical guide for techs.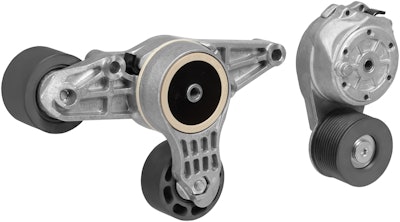 Vehicle makes and models with these specific engine types use a different dual-tensioner assembly – a 1-piece tensioner that keeps tension on two belts. While it's been upgraded over time, Dayco said, it remains very difficult to install.
Dayco's tensioner was "engineered to be more durable and much easier to install than the original equipment," said Jay Buckley, company director of product management, eliminating narrow gaps through which 8-rib belts were required to be threaded upon replacement.
With the new design, instead of struggling to get the belt on a 1-piece tensioner, Dayco split the system in two, so the product has an outer and inner tensioner.
Highway Angel recognized for helping trapped driver
Paul Ryan Bales, a truck driver from Nixa, Missouri, has been named a Highway Angel by the Truckload Carriers Association for rushing to the aid of a man trapped in his overturned vehicle, which soon caught fire.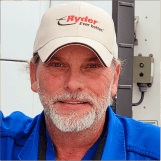 On August 20, in the early morning hours, Bales was eastbound on I-44 near Rolla, Missouri, on his way to St. Louis, a run he makes every Friday, when he noticed that cars ahead of him were hitting their brakes and swerving.
"I figured it was something in the road," he said. "But as I approached the overpass, I saw a pickup truck on the shoulder in a ball. It was a mangled mess, upside down. I thought it must have just happened."
He quickly pulled off on the shoulder and ran back.
"Two other guys, construction workers in a pickup, stopped," Bales said. "We didn't know how many people were in the pickup or ejected."
They found a man under the truck, who wasn't moving, then they noticed flames coming from underneath the front of the truck.
"We dragged him as far as we could without injuring him," he added. "He was in bad shape."
Bales then ran back to his truck to grab his fire extinguisher, but it was no match against the flames. "I tried to flag down other trucks and was waving my fire extinguisher in the air."
Another driver stopped, but by this time the pickup was engulfed in flames. It wasn't long before paramedics and firefighters arrived on scene. "They air-evacuated him to St. Louis," said Bales. "You know when they bring the helicopter in it's not good."
Bales said the driver, an older man, wasn't wearing a seatbelt and had been ejected from his vehicle. "I could see where he had hit the guardrail," he recalled. "The truck went end over end underneath the bridge. It was dark underneath the overpass and other drivers were concentrating on avoiding pieces of metal strewn from the truck. The top was ripped off like a sardine can."
Despite the seriousness of the accident and the injuries the driver sustained, Bales heard he was expected to make a full recovery.
TCA has presented Bales with a certificate, patch, lapel pin, and truck decals. His employer, Ryder System, has also received a letter acknowledging him as a Highway Angel.
[Related: Winter trucking tips that could actually save a life]