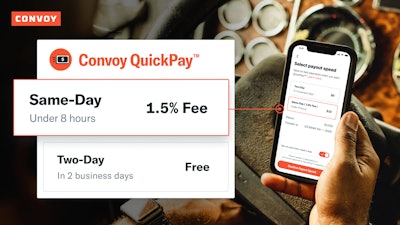 Digital brokerage Convoy is expanding its Convoy QuickPay service to allow eligible carriers to get payments delivered directly to their bank account within eight hours of load completion for a small fee.
QuickPay originally launched in 2016 as a free, 48-hour payment option. With this expansion, carriers now have the flexibility to get paid within two days for free, or within eight hours for a 1.5% fee, directly through the Convoy app with no new contracts, specialized credit cards or new bank accounts to open.
Convoy also announced that during Truck Driver Appreciation Week (Sept. 12-16), the new eight-hour QuickPay option will be available at no fee.
"In a year when carriers have faced record fuel prices, inflation impacting the cost of parts and maintenance, and significantly lower rates per mile, our carriers told us they sometimes needed an even faster way to get paid than our existing and popular free, two-day option, and that they'd be willing to pay for it," said Convoy co-founder and Carrier Experience Officer Grant Goodale. "Once this carrier need became clear, we were able to build a solution that flexibly addressed their key challenges."
Convoy says every month, more than 75% of shipments hauled by carriers in its network are paid with the free, two-day QuickPay option.
Both QuickPay options are now available to every eligible carrier on any load hauled with Convoy. To qualify for QuickPay, carriers simply need to assign the driver to the load, have the driver turn on their location services for the Convoy app during the entire trip, and upload documents within 24 hours of delivery.
[Related: On-highway experience yields insights for Convoy co-founder]