Trucking news and briefs for Friday, Dec. 9, 2022:
Biden announces $36B pension bailout for Teamsters
President Joe Biden on Thursday, Dec. 8, announced a $36 billion pension bailout for the near-insolvent Central States Pension Fund, preventing cuts to the pensions of more than 350,000 workers in the Teamsters union.
The funding was made possible by the American Rescue Plan, which was signed into law by Biden in March 2021. Biden was joined at the announcement by Teamsters General President Sean O'Brien, AFL-CIO President Liz Shuler, Secretary of Labor Marty Walsh, and Teamster workers and retirees with multi-employer pensions.
The Central States Pension Fund serves workers in trucking, car haul, warehouse, construction, food processing, dairy and grocery trucking, according to the fund. The White House said that without the funding, affected workers and retirees would have faced estimated benefit reductions of roughly 60% in the next few years. The Central States Pension Fund estimated that it will now be able to pay full benefits to workers and retirees through 2051.
"This is an issue of fairness -- of this country keeping its word to hardworking, honest people who did everything they were supposed to do in life," O'Brien said. "Our members chose to forgo raises and other benefits for a prosperous retirement, and they deserve to enjoy the security and stability that all of them worked so hard to earn."
Approved by the Pension Benefit Guaranty Corporation, this is the largest ever award of federal financial support for worker and retiree pension security and the largest award from the American Rescue Plan's Special Financial Assistance Program.
[Related: Know when to hold 'em, fold 'em: Timing the market for retirement in harsh times]
Ohio converts weigh stations to truck parking
There are new truck parking spaces along two interstates in Ohio as the state continues to convert unused weigh stations for parking.
The Ohio Department of Transportation recently opened two new truck parking areas. They have converted 10 weigh stations so far and plan to do three more in 2023.
The new truck parking is now open in Medina County on Interstate 76 eastbound between SR 3 and SR 57 and in Ashland County on Interstate 71 southbound between SR 539 and U.S. 250.
The truck parking areas will have spaces for about 18 trucks in addition to any parking on the entrance or exit ramp shoulders. No restrooms will be available.
Love's opens four new locations
Love's Travel Stops this week announced the opening of four new locations in Illinois, Ohio, Tennessee and Texas, adding 290 truck parking spaces to its network.
A new store in Morris, Illinois, offers 86 truck parking spaces, Hardee's and Naf-Naf restaurants opening Dec. 12, eight diesel bays, seven showers, a Speedco and more.
In Lancaster, Ohio, a new Love's features 68 truck parking spaces, a Hardee's opening Dec. 12, six diesel bays, five showers and more.
A new Love's in Loudon, Tennessee, has 77 truck parking spaces, an Arby's opening Dec. 12, nine diesel bays, seven showers, a Speedco and more.
Finally, in Carthage, Texas, a new location offers 59 truck parking spaces, a Subway restaurant opening Dec. 12 and a Wendy's, seven diesel bays, five showers and more.
"Opening four locations in one day is no small feat, but our team members are ready to provide customers with clean places and friendly faces in Morris, Lancaster, Loudon and Carthage," said Shane Wharton, president of Love's. "With plenty of amenities to choose from at each of our locations, professional drivers and four-wheel customers are sure to get what they need and be back on the road quickly."
Driver named Highway Angel for rescuing abandoned puppy at truck stop
The Truckload Carriers Association (TCA) has named truck driver Rich DiFronzo, from Dallas, Pennsylvania, a Highway Angel for rescuing a malnourished and abandoned puppy tied to a tree at a New Jersey truck stop and nursing her back to health. DiFronzo drives for Barnhart Transportation out of North East, Pennsylvania.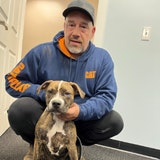 Several months ago, DiFronzo was at a truck stop in New Jersey and discovered a female puppy abandoned and tied to a tree.
"I fed her cheeseburgers because I asked everybody around whose dog it was and no one said anything," DiFronzo said. "They said a guy was trying to sell the dog over the weekend, and I got there on Thursday -- so to me, that's five, six days that the dog has been there, tied to the tree."
DiFronzo freed the puppy from the tree and took her home with him. Although she was skittish when he first approached her, she seemed relieved to be rescued.
"She stayed with me the whole week in the truck," he said. "She couldn't get enough cheeseburgers -- she was starving."
DiFronzo took the puppy to the veterinarian as soon as he returned home to Pennsylvania. She was malnourished and needed several rounds of antibiotics. He spent more than $500 to nurse the puppy, now named Roxy Lynn, to health. On Oct. 18, she went to her forever home with a friend of DiFronzo's.
"I'd do it again tomorrow," he said. "I love animals, and you just don't do that to animals."