Of the ubiquitous smartphone, which led Overdrive's State of Surveillance survey in both average costs and benefits, owner-operator Andy Freeman of Richland Center, Wisconsin, leased to Landstar, said that "if you're doing this," trucking business generally, "on a smartphone, you embrace technology" whether you say you do or not. "If you even own a flip phone -- if you've got anything other than a hard line, that means you're embracing technology."
Freeman's formulation accounts for all but a scant 3% of Overdrive's State of Surveillance survey respondents, with 85% reporting they used a smartphone in the operation, another 12% a basic cell phone. "Some people are afraid of new technologies," Freeman said, "but if you have a smartphone, you embrace technology. Just get over it."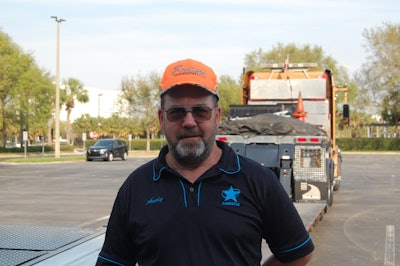 It's easy to see why so many have brought the computer-in-your-pocket devices into the cab. For Freeman, ease of communication enables him to easily prep for service in his home area, with his preferred shop, and double down on preventive maintenance. He sits his views on the reticence to other techs among some of his peers also in the realm of what truck OEMs have been forced to do by the Environmental Protection Agency -- those emissions systems with their DPFs, selective catalytic reduction and the use of diesel exhaust fluid and myriad sensors, prone to failure.
Yet the OEMs, he feels, have "come a long, long way with the sensors," he said. "If you listen to your equipment and monitor your equipment and what it's telling you, your breakdown can be a scheduled breakdown."
Do the calculations, he says -- use the smartphone in your pocket. He tracks his DEF-use mileage just as he does his fuel mileage. Anytime he sees a spike in DEF use, it's time to pick up the phone and schedule that breakdown, as it were, with his home shop. "It doesn't matter who you are," he said, "even a company driver. If it's 10 below, I'd rather go to a shop where it's warm and fuzzy than be stuck on the side of the road and freezing my booty off" with a road call.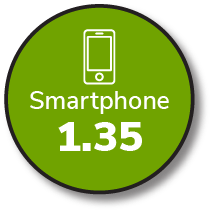 Costs associated with smartphone use were rated by survey respondents higher than any other tech mentioned in the survey, at an average 6.6 of a possible 10, where 10 is costliest. Smartphones, however, were rated highest on the 1-10 benefits scale, too, at 8.9. Only road-facing cameras, at 8, came even close, and smartphones had among the highest cost-benefit ratio of all the surveyed techs, at 1.35.
[Related: Broker intrusions on rise with ubiquitous location tracking]
The devices, furthermore, enable mobile functionality of many of the other techs analyzed via the survey, from electronic logging devices to truck and trailer telematics. GPS, of course, too, though purpose-built GPS devices that give owner-ops truck-safe routes by accounting for the rigs' dimensions have been available nearly as long as basic cellphones have.
Smartphones have likely dented their market penetration, as just 42% of survey respondents reported reliance on a purpose-built GPS unit today.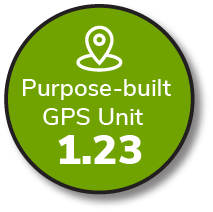 Among them, though, are Bennett Heavy & Specialized-leased owner-operators Robert and Donna Benson, out of Carthage, Missouri, who use the built-in GPS unit for turn-by-turn directions in their 2021 Peterbilt 567 "routinely, all the time" to help find the best routes. Donna said the GPS is "critical" to their operation but noted that because they haul hazmat, they're still careful to double-check any route to make sure they stay off of hazmat-restricted roads.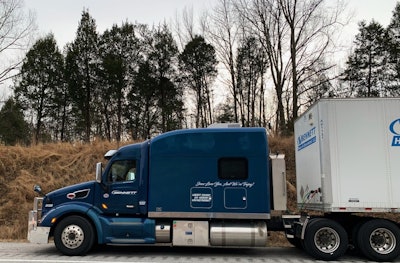 Owner-operator Freeman will use his smartphone's map functionality himself for a window on immediate surroundings on occasion. At once, Freeman notes he's old-school in some ways when it comes to navigation, leaning against over-reliance on the too-tight window turn-by-turn directions give an OTR trucker.
"I also have a full-size laminated map on my passenger seat," he said. "The trump-all is that laminated map. I don't care what Waze says or what any tracking device says. It's always better to see what you're going to be playing with" up ahead "rather than trying to zoom in on your phone" for directions.
Podcast -- Truckers 'canaries' in the tech mine: Inside story around 'Data Driven' book on ELD mandate, rise of 'new workplace surveillance'
Video monitoring, in two parts:
**Can AI transform the prying eyes of in-cab cameras for the better?
**In-cab and out, camera options expand amid push-pull of privacy concern, regulatory attention
ELDs/smartphones and location tracking -- Broker intrusions on the rise with ubiquitous location tracking capability
Truck and trailer telematics -- Telematics beyond ELD systems: Promise, redundancy and real expense/uptime benefits
Data mining -- The third parties following you around freight networks: Brokers looking more like carriers with 'data driven' decision-making
Smartphones/GPS -- Counterpoint to some truckers' tech reticence: 'If you use a smartphone, you embrace it'
Roadside inspections -- 'Nothing to hide, nothing to fear,' right? Get ready for Level 8, automated inspections
Podcast -- FMCSA offering 'kinder, gentler' approach to safety scoring? Not if automated inspections go live