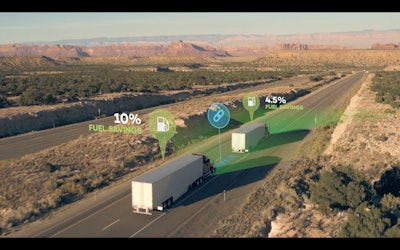 Omnitracs and Peloton announced Thursday a collaboration designed to bring Peloton's truck platooning technology to fleets using Omnitracs. The partnership is also expected to yield jointly developed systems that combine each company's capabilities.
Peloton's technology synchronizes braking and acceleration between pairs of trucks through vehicle-to-vehicle communications and radar-based collision avoidance systems.
Peloton will begin filling pre-orders of its platooning product for Class 8 trucks this year, the company says.
As part of the Omnitracs partnership, Peloton will help to roll out automated vehicle technology to fleets using Omnitracs, beginning with two-truck platooning.
For the driver of the follow truck, the Peloton system works similarly to adaptive cruise control with the added feature of V2V communications to enable automated braking within 0.1 second of braking by the lead truck. The driver of each truck controls steering while the platooning system coordinates speed and distance between the trucks.
Platoons are managed continuously by a cloud-based Network Operations Center that connects to trucks through cellular and Wi-Fi communications. Cloud-based supervision limits operation of platoons to specified roads in safe driving conditions.
A key benefit of the partnership for Omnitracs customers, the companies say, will be matching opportunities for inter-fleet platooning, leveraging Omnitracs' routing and dispatch applications to provide navigation assistance and savings calculations for scheduled and ad-hoc platoons of trucks from different fleets.
Podcast: Play in new window | Download