When the Discovery Channel was looking for a company to feature in its new "American Loggers" television series, they turned to Gerald Pelletier Inc., a family-owned and operated business that's been working the rugged and remote North Maine Woods for three generations. This season marks the second for "American Loggers" and the Pelletiers. Airing on the Discovery Channel on Friday nights at 10:00 pm, the series tells the story of these seven brothers and their sons who harvest timber in some of the deepest wilderness imaginable, then haul it out on unpaved, usually ice-covered logging routes. It's a demanding, sometimes dangerous way to make a living, and the Pelletiers primarily use Mack trucks to do it.
"We've been at it for years, and obviously know it's tough work, but a TV show about us? Didn't see that coming," says Eldon Pelletier, the company president. Eldon oversees all operations of the company, but says he most enjoys being just one of the crew. "We were 'all-Mack' for many years, and still have quite a few of those tough old Macks in our fleet working every day, so we know where the phrase 'Built Like a Mack Truck' comes from," Pelletier says. Of the new Mack Titan with 600-hp MP10 engine, he adds, "we were very pleased to see them come out with a new model that has the big power we need in the woods. We expect these new Titans prove to be as tough as the ones we're used to."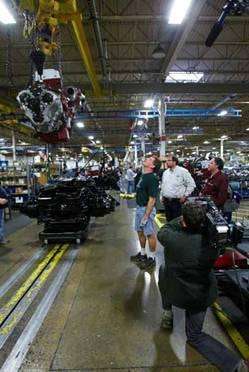 The 'American Loggers' production crew traveled with Eldon and his brother Jeff to the Mack Macungie, Pa., plant for a a tour November 19 (pictured), Mack says, to see how the Titan's strength and power come together on the assembly line.
Impressed by what they saw, the Pelletiers left excited about the two Titan by Mack models they've recently added to their fleet.
A Discovery Channel video crew also visited Bangor Truck, the Pelletiers' Mack dealer in Maine, to shoot preparation and delivery of one of the two Titan by Mack models they've purchased.
"It was a lot of fun having the crew here," says Eric Dysart, salesman for Bangor Truck. "They were very happy with the truck. It's a beauty and a workhorse at the same time."
Mack reports it's too soon to say exactly when episodes of "American Loggers" featuring the Titan by Mack trucks will air. Scheduling information is posted on the show's website, as it becomes available.