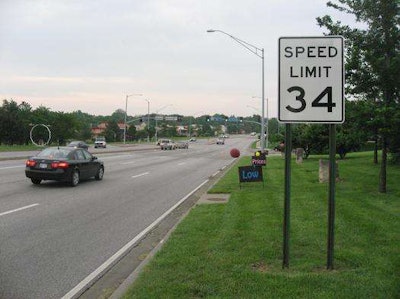 No, it's not a joke the Kansas DOT is playing on truckers and motorists — nor any kind of sophisticated speed trap. Click through the thumbnail of the picture at right here for a story from the Olathe News on the Kansas City Star's website about Gastinger Walker Harden architect Joel Marquardt's Art-n-R-Park public art project/series, of which this curious sign is part.
It sits on Roe Boulevard between West 48th Street and I-35 in Roeland Park, Kan., no doubt grabbing the attention of speed-limit-abiding drivers and scofflaws alike, I imagine. But while it might be novel on a public roadway, shopping malls and parking lots have been doing this sort of thing for years, crafting speed signs with top speed limits as low as 3 miles per hour to get drivers' attention. I'm immediately reminded of a sign on the drive into the Opry Mills/Opryland Hotel complex off Briley Parkway in Nashville, whose 24-mph limit always left me looking down at my speedometer and, of course, wondering at the significance of the limit.
Could be a suggestion for your Congressman. Rather than require speed-limiting technology in your trucks, what if the nation just swapped out the speed limit signs every year or so with slight adjustments? Would a 69 mph sign get your attention? 71?