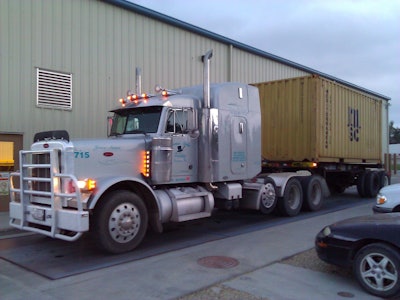 Tom Blake certainly thinks so. The small fleet owner — he still trucks himself in the pictured 2005 Peterbilt 379, powered by a 500-hp Cummins and an 18-speed transmission — installed PeopleNet Blu-model electronic onboard recorder units in every one of his fleet's five current trucks, plus one owner-operator's truck running under his authority.
That includes the Pete he drives. He paid $1,400 apiece up front for the units, plus a monthly service fee that was well lower than other, less-expensive models he looked at. The units not only automatically track hours, but they save the small fleet owner-operator loads of time auditing logs in the back office, dealing with trip sheets, and computing and reporting fuel taxes.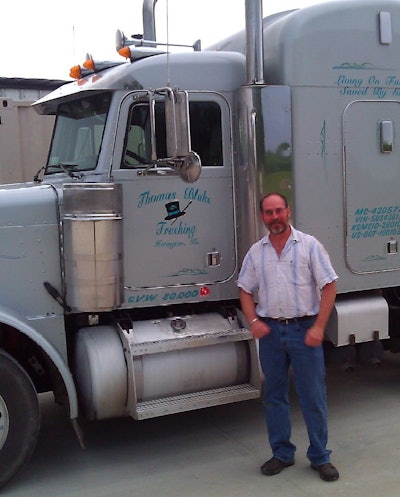 "I paid for the owner-operator's unit" in addition to the others, he says, and "I figure it's a wash for the man-hours I had to put into figuring out trip sheets and fuel taxes and auditing all the logs – if you figure it costs me $50 a month for that unit in his truck, I guarantee you it's a wash the time that I'm saving."
More time, he says, he can spend hustling container freight — since he transitioned from a longtime leased operation, first with Highway Carrier Corp, beginning in 1991. About the time Highway "got bought out by Schneider," he says, "I went to another smaller fleet, flatbedded for Great Plains Trucking out of Salina, Kan. I decided I wanted to be an owner-operator and bought my first truck, had it leased on to them."
After a time, he wanted to be back at home more often and got his own authority, contracting with a particular container shipper for regular short runs of mostly 20-ft. containers, expanding slowly over the years and adding trucks and drivers. Today, the Thomas Blake Trucking fleet operates primarily within 160 miles of Kansas City, Mo., rail yards.
His move to electronic onboard recorders was instigated by a friend he had in a DOT investigator who alerted him to his ranking in the Fatigued Driving BASIC of the Compliance, Safety, Accountability (CSA) program. His numbers were verging on alert status, which would trigger an intervention from FMCSA. All of his problems had to do with simple log errors part and parcel of the paper log environment and basic human nature.
"I've never had a driver put out of service for a log-book violation," he says. Rather, violations like logs not current, math errors on hours totals, and etc., had pushed his scores up into the red. He brought the problem up with his drivers and, after six months, though he could see no new roadside problems, his self-audit of his logs uncovered the same old patterns.
Meanwhile, FMCSA was beginning to send warning letters out to carriers whose rankings in the CSA BASICs were above the intervention threshold. Facing the possibility of an investigation, Blake felt he had to make a stark choice, which he presented to his drivers: "I said, 'I've got two options. Either I install recorders or I'm going to have to shut my doors."
The problem, in the end, was a lack of attention to log detail, and "EOBRs eliminated that problem 100 percent." Not quite a year after his implementation of EOBRs, his ranking in Fatigued Driving has fallen to the intervention threshold of 65, and over time, he believes, it will continue to fall, as older "form and manner" log violations fall out of the system. Audited on-site by FMCSA last September, furthermore, his move to electronic logs convinced the inspector he was dealing with the problem sufficiently.
The EOBRs yielded other unexpected benefits, too. One of his drivers, reflecting a widely held feeling among drivers and owner-operators throughout the industry, felt that the device would hamper his ability to keep up his current income level, given delays at rail yards and pickup facilities. Today, Blake says, "that driver's averaging $300 more a week" in income.
Two reasons for that, Blake says.
1. The driver in question managed his time better.
2. EOBRs gave Blake himself a powerful tool with his customers and the shipping/receiving facilities he dealt with relative to detention time. Given that stopped time and location is easily retrievable with the systems, he says, he now has ready-made documentation to prove detention time to the shipper, beyond just his and/or his drivers' word.
On the latter point, Blake believes if all carriers had EOBRs, an industry standard would quickly develop for detention pay in customer contracts. "If the government ever decided to make it mandatory to have EOBRS, every trucking company would have a tool to show the delay and where it's happening – either they could raise the freight rate to adjust for that time so that overhead is still being met and drivers are being paid a higher rate, or you could charge detention on the dock."
What do you think?
Any other small fleets or independents out there running EOBRs?
Blake says he can feel the criticism coming, but wants readers to know that, at first, he was against the devices himself: "I was definitely pretty well against them beforehand. But like I say, when you're looking at what minor violations can do to your scores — with DOT doing everything they're doing with CSA and coming after carriers — I basically decided I had to make a choice if I wanted to stay in the trucking business. It's either adapt and go with the changes, or close the doors. Now that I'm running this way, there are instances where we've been getting loaded and something's gone haywire. I can send my customer a printout of the time the driver's been sitting at the dock instantly. If every trucking company did that, I believe, they would start getting compensated for that time. Drivers would not be forced to fudge anymore."
Blake sees it from both an owner and driver's perspective, too. On the latter point, "I love being able to hop in the truck, pop in the computer, and I don't have to worry about my logbook in a weigh station. It's kind of peaceful, knowing that."
Thoughts?
PS: Blake is looking for drivers for a few other trucks — he's had a couple drivers retire in the recent past and keeps running into snags with new applicants, fyi. Find more about this fleet via this page.