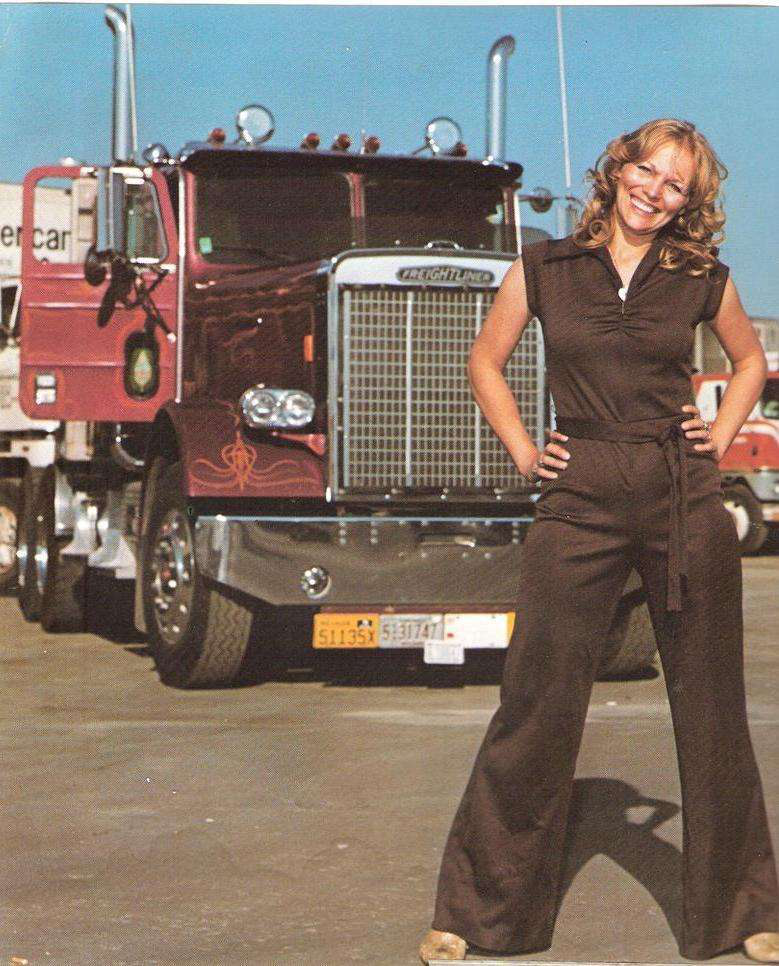 When Genie Mack Brown of Prague, Okla., was 36, she'd split with her team owner-operator partner — down the middle: he took the truck, I took the music — and headed out to Nashville, where then they told her she was too old to be a star country singer. Today, she's 69, and retired, but her music is enjoying some new life on account of a friend in Wyoming who put a few of her old tracks up on ReverbNation.com. They're old-time-tinged country with a load of rural character — one of them being an anthem that got mention in 1980 in the pages of Overdrive, "What will we do when the trucks are gone?"
Brown got introduced to the trucking world when she saw a news program about a group of independents on June 10, 1979, shutting down in Mesquite, Texas, "which was not far from where my home was at the time." She promptly "wrote the song 'We're Independent Truckers' and played a little tape of it to the guys that were down at the truck stop there over the phone.  They asked me to bring it and play it for the rest of the guys. I did, then they said, 'record it for us.' I had no knowledge of the Dallas recording industry at that time, but someone called Bill Mack…and I contacted the  guys (I had a small band and played in the Dallas area at the time). We went to the studio and recorded  that song as well as 'Yellow Pine' and took the tape over to Bill Mack and, 19 hours after the song was written, he played it over the air."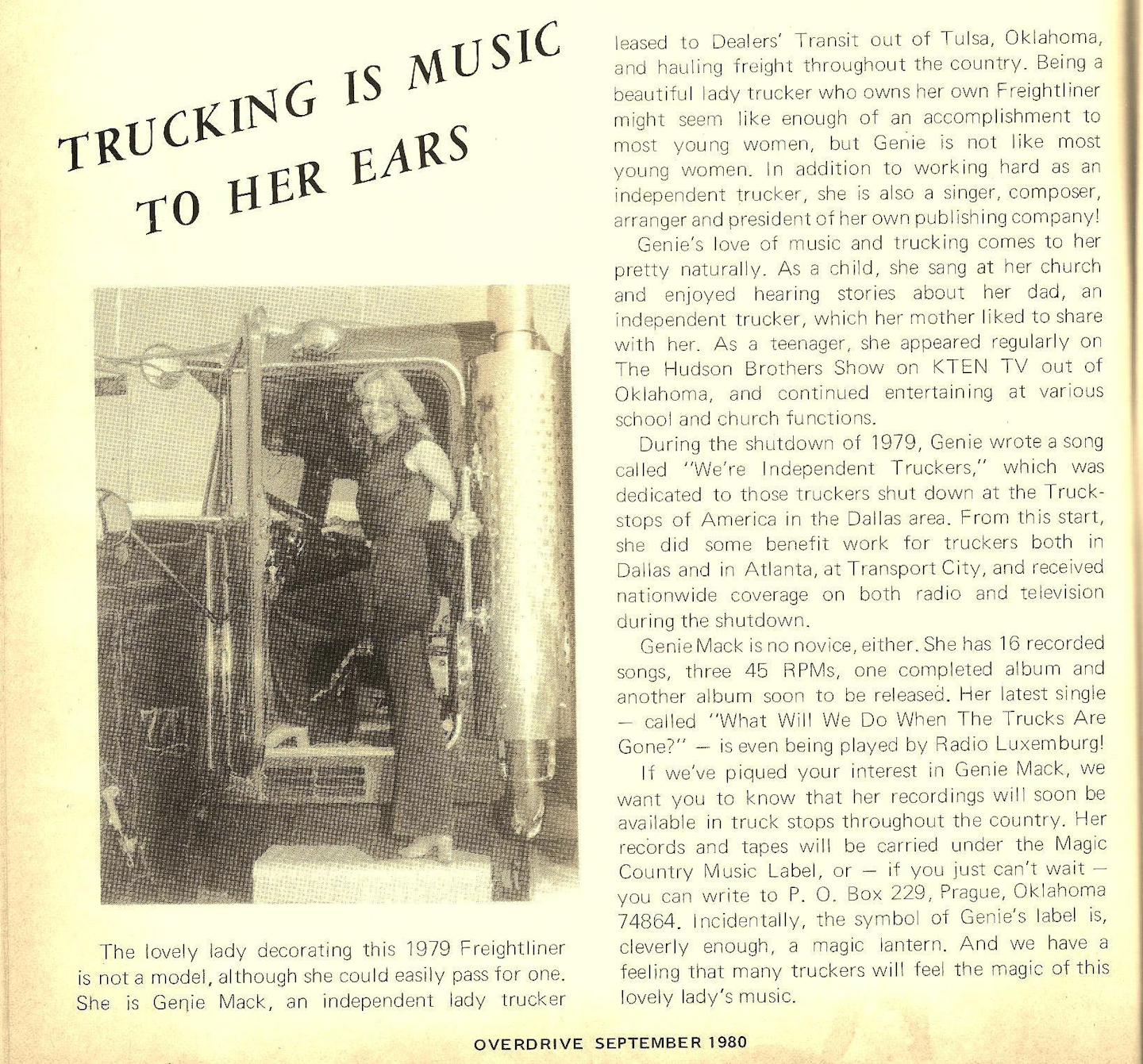 What followed was a brief moment in the national spotlight during the 1979 shutdown, the single pressed and played behind news shows nationwide, after which more trucking tunes turned into other singles and a full-length record.
You can travel back through more of her tunes via the ReverbNation page, and she's ordering CD reissues of her old album. Write her on Facebook via her Genie Mack, The Magic Music Lady Facebook group.
Paypal users, she says, can order the CD via this link.
Find more selections from my Q&A with her below:
TD: I'm reading that your father was an independent trucker…
GM: Daddy drove truck when they only had four, and six, wheels. He took produce to Arkansas when my older sisters were small  in the late 1930s. Mother and my sisters went with him on those trips, and often my mother would spell him at the wheel. I heard many stories of that.
When I was  about 10 he drove a delivery van but no longer a big truck. I remember him talking about the semis that they had in the 50s that would pass by our front door on old highway 99 — how different they were from his truck years before.
When did you follow in his footsteps and buy a truck of your own?
I was fortunate that when I was finished recording the album I met an owner-operator who wanted to back me in the music, and who also helped me get my commercial licence. We made a deal that I would own half the truck [the truck you see behind Genie in the picture above) and he would own half of the music. We started Magic Country Music  publishing, and released the record album, as well as three more 45s. Also, we hauled freight and did concerts till it just wasn't possible to keep both the music and the truck running,  for approximately three years. We decided to split down the middle and he took truck and I did the music — we remain friends today.
I went to work driving again after going to driving school for a refresher course and gaining my CDL in the late 90s. I drove for owner-operators with several different companies until 2004, when I received a shoulder injury that caused arthritis. Since then, I haven't driven.
On the subject of the 1979 shutdowns mentioned in the old Overdrive article…
By that time I was hooked on these guys and their cowboy ways…. They wanted more of my songs, so I got some money together and went into the studio and recorded  several more songs and had made some tapes of them to sell. [Shortly after, she met the partner she mentions above.]
How did the ReverbNation posting come about?
David Stevens in Afton, Wyoming, is the cousin of a dear school friend who asked for my help researching his Long family in Oklahoma. I offered all my friends and family a download of the 1980 album if they wanted it. David was so impressed with the songs he wrote back and offered to promote me. I said sure, why not.
Where can drivers get copies of your record other than the ReverbNation tracks?
The album was pressed in 1980 and put out  to radio stations all over. They did play some songs, but not when it was Billboard day, as they explained they didn't want to lose their vote. Actually, some stations still have that album — they played C.B. Smokie over  the radio in Berkley, Calif., before it was put on ReverbNation.
I am having CDs made and will have them soon. The original was done on 8-tracks, and then cassettes and the pressed album. I believe the total cassettes were 20,000, 1,000 8-tracks, and 1,000 albums, a thousand of the 45s each.
What's the biggest thing you miss about working as a driver on the road?
The travel, the trucking family — it is like one big family when you are out there.
What's the biggest thing you don't miss?
Scales and the DOT.