Over on the Ship Happens blog at uShip.com, Madison Capps has posted an interview with T.D. Barnes, part of the military's Area 51 Special Projects group back in late 1950/early '60s, when he was involved in development of the Archangel-12 Blackbird stealth reconnaissance plane, designed by Lockheed for the CIA. As Capps writes, "It would go on to become the world's fastest plane, the first to break Mach 2.0, and the prototype and proof-of-concept for the more famous SR-71" Blackbird.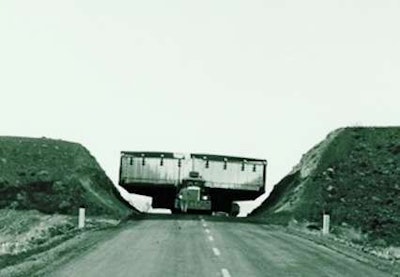 The story of how a full-size model of the A-12 was hauled during early stages from Burbank, Calif., where it was built, to Area 51 for testing over three days is one of a mammoth undertaking, as the picture here illustrates. To say the least, as writes Capps, it was no typical haul:
Given the sensitive nature of the tactical spyplane's capabilities, its movements were classified and veiled from all civilian and possible enemy radar. Extreme measures were taken to ensure its existence remained a state secret….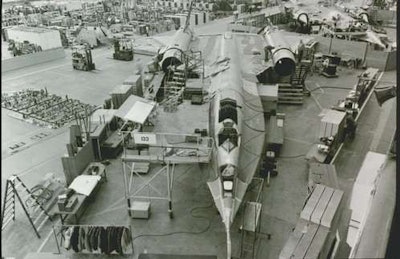 "It began in 1959 with a road survey," Capps writes, which included planning for load width of a whopping 35 feet, overall length 105. "Along the route, signs were modified, trees were cut and roadside dirt removed.  In some places, roadside barriers were either removed or adjusted."
Lockheed engineers had to custom-build a "carriage system" for the A-12 — two large steel boxes shielded the plane from view, and were hauled by daycab tractors owned by Lockheed. As Capps writes:
A larger box framed the body of the plane and its landing gear. The safest way to carry the weight of the load securely was to transport the plane and its steel case on its landing gear. Engineers equipped the main box with a manual-drive axle due to its large size. The second, smaller box carried the removable outer wing as well as the rudders, forward fuselage section and other small pieces separately from the larger load. 
An amazing tale, all told, and which you can read in its entirety here.