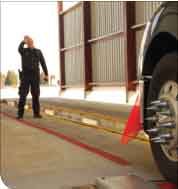 Following my "Roadcheck effect" post on Tuesday, which took a look at monthly inspection statistics over the past several years around the June inspection blitz, several news items about truck enforcement have appeared. Also, following my mention there about readers' reports nearly every year of law-enforcement "getting started early" with ramped-up inspections this time of year, one duly came.
Yesterday, after recent travel through Tennessee, Florida, Louisiana and Georgia, my colleague Wendy Parker, who runs with her Landstar-leased owner-operator husband, George Parker, had the following to say: "Jesus weeps at the numbers out here today. Holy cow. If I've seen one, I've seen fifty. DOT is working it — all the way across the U.S.! Be advised, if you have a DOT number today, be ready to have your panties inspected." TN, FL, and LA were all a "nightmare," according to reports to Parker from readers and her own firsthand observation. Obvious activity slowed down when they got to Georgia toward the end of yesterday.
Seeing anything out of the ordinary?
Entrapment alleged in Illinois
In Illinois, the Midwest Truckers Association is sparring with the state over a site in Will County where county enforcement has been issuing tickets to truckers for exceeding the weight limit over a culvert on Manhattan-Monee Rd. just west of U.S. 45. MTA Associate Director Matt Wells told WBBM radio's Steve Miller the location's confusing signage and county enforcement's capitalization on it amounts to "a money-making extortion scheme by the local law enforcement."
Here's a brief piece of the Joliet Herald-News item on the subject:
Truck drivers often use [Manhattan-Monee] road to access U.S. 45, but fewer than 1,500 feet west of U.S. 45 lies a culvert with a 15-ton weight limit. When trucks turn onto the road to gain access to U.S. 45, the first sign they see points out a 15-ton weight limit 5 miles ahead.
U.S. 45 also is about 5 miles east of U.S. 52. In the same line of sight is a sign that says the road is a truck route… Read the full Herald-News report at this link.
The "truck route" sign is the crucial piece of the puzzle here. Wells told the Herald-News many drivers just assume the sign means the culvert is beyond U.S. 45, not before it. (It actually sits 0.3 miles prior to the intersection with U.S. 45, as noted above.)
If you run the area, keep it in mind.
Outside local jurisdictions, Illinois DOT and the highway patrol have been on a tear with inspections in the last year, conducting more than 90,000 total inspections in 2014, more than 8 in 10 of the roadside, non-weigh-station variety. If federal numbers are correct, that marks a 50 percent increase in inspections all told over year 2013, when Illinois conducted just around 60,000 inspections, and almost more than double what the state did in 2012.
The state's share of roadside inspections was up in 2014, too, around 5 percentage points from 2013. Here's a look at Illinois inspection levels over the last four years:
Join a conversation on Overdrive's Facebook page started last week about Illinois' boosted activity via this link, or sound off here in the comments. And: Stay tuned for further reporting in the coming months.
New truck 'emphasis patrols' in Washington State
A report from KIRO in Seattle notes that the Washington State truck-enforcement department is re-emphasizing truck enforcement this year with on-highway patrols.
If recent historical inspection numbers are any indication, this year might look more like 2013 in Washington than 2014, when inspection numbers overall fell and the percentage of inspections conducted at roadside by mobile units also fell.
The above chart shows the percentage of inspections conducted in Washington away from fixed weigh and inspection stations. KIRO reported emphases on moving-type violation would be highlighted in the new patrols, in addition to equipment issues, and "bears in the air" were taking part. Their full report is here.