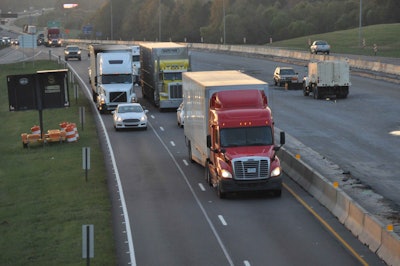 It's great to come back from a week off to this sort of thing — a poem by Geffrey Davis that captures one son of a trucker's memory of his father's particular struggles and joys and sadnesses, inextricably linked with his own, from the road.
As I sift through the mail generated by last week's coverage of post-crash litigation from our June issue, rates and the FLSA exemption and more, here's a bit of an excerpt from Davis' "What I mean when I say Truck Driver," originally from his 2014 Revising the Storm collection and recently republished at the site of the Academy of American Poets.
You can get a poem a day from the academy in your email inbox via this link.
What I mean when I say Truck Driver, by Geffrey Davis
During the last 50 miles back from haul & some
months past my 15th birthday, my father fishes
a stuffed polar bear from a Salvation Army
gift-bin, labeled Boys: 6-10. I can almost see him
approach the decision: cold, a little hungry, not enough
money in his pocket for coffee. He worries
he might fall asleep behind the wheel as his giant,
clumsy love for that small word—son—guides
his gaze to the crudely-sewn fabric of the miniature bear
down at the bottom of the barrel. …