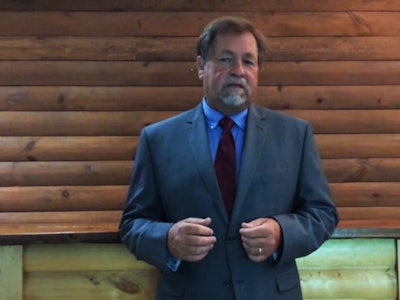 Here's a public service announcement from one among you delivered directly to the three candidates for president of the United States from the most prominent parties at this stage — Donald Trump (Rep.), Hillary Clinton (Dem.) and Gary Johnson (Lib.). It comes from Jeff Clark, "still rocking the boat," he noted in a message to me with a link to this video (at bottom), originally posted on his Team Run Smart blog here.
Speaking of presidential candidates …
In Clark's video, he argues something he's argued in the past, when he introduced someone he thought should be considered for the next Administrator of the Federal Motor Carrier Safety Administration when that appointment was still an open question a year and more ago — i.e., himself.
Now, I've always known Clark to be a man with a good sense of humor, and not to detract from his own candidacy for that position, but he gets more serious with the recent message, urging the next president of the United States to seriously consider someone with professional driving experience to head the FMCSA, state and municipal governments to put "a driver in the room" when designing whatever new roundabout they're putting in and etc. His central message — though he spends some time on the debacle of the CSA Safety Measurement System, average tenure for a truck driver in the industry is "shorter career than the average NFL player's of three and a half years," he says, as drivers churn in and churn out of an industry in which a "driver shortage" is continually trumpeted.
Think outside of the box and reward companies that keep their drivers by treating them like the professionals they are, he says. And all the technology in the world can be great, but "the most important safety feature in any truck is the professional driver." Amen to that. Catch Clark's full message below: