The fact in the headline here is one you're no doubt well aware of, particularly given this is an election season. You see it every day from politicians even outside of an election battle, but you'll also see it elsewhere — in news media, for sure, and in the lobbying scrum over this or that trucking regulation.
Rob Abbott, outgoing safety policy VP with the American Trucking Associations (he's moving to assume a position with camera-system maker/provider Lytx), I quoted in the "Biggest little voice in trucking" story about the various groups that make up the loudest trucking critics out there (the so-called safety advocacy community) to this effect:
"We think there's a lack of credibility there and would not want to associate with them."
He was talking about past-railroad-funded CRASH and partners in Parents Against Tired Truckers, as well as the Advocates for Highway and Auto Safety group, all of whom share board members, and what he saw as "irresponsible" use of data.
I was reminded of that notion following my conversation with Steve Owings attendant to my work on the story. Owings' group, Road Safe America, as a general rule has garnered a better reputation for fairness among the trucking community, and ATA has in fact been associated with Road Safe in its long push for a speed-limiter mandate, as chronicled in the feature story.
During our conversation, Owings made note of what he called a recent "study" of crash reductions as a result of Ontario's speed-limiter mandate, offering to have his office assistant send me the report and expressing amazement that "it hasn't come out."
What I was later sent turned out not to be a study, but simply a link to this post on TheCarConnection.com, whose headline implies causality in a crash reduction that coincided with the first year speed limiters were mandated in the Canadian province of Ontario. It was something of a speculative story about technology and its ability (or lack thereof) to improve lives in general, and took off from an NPR story that was more direct in stating that speed-limiting tech has "had the intended effect. In Ontario, the number of fatalities caused by heavy truck accidents dropped 24 percent in the first year of the speed limiter mandate."
What the writer failed to mention, however, was that the first year the speed-limiter mandate in Ontario was in effect also happened to be 2009, when the global economy took its biggest nosedive since the Great Depression, reducing truck miles in North America significantly.
Here's what Ontario's fatalities involving large trucks have looked like from 2007-'14, the most recent year based on a preliminary report from the province's statisticians, the previous years culled from its annual Ontario Road Safety reports.
Some of the decline in crash fatalities conceivably could be attributed to speed limiters, given fatality numbers haven't returned to pre-recession levels. (And a note: 2007 was a particularly bad year in Ontario for crash deaths involving large trucks, something of an outlier in the annual statistics, so the fall shown here looks a little more pronounced than it would if we went back farther.)
At once, in the good ol' U – S – of – A, where there has not been a speed limiter mandate, a more or less similar trend is in evidence:
In percentage terms, crash fatalities in the U.S. are not down over the time period shown above as much as they are in Ontario, but again, like I said, we're starting from a particularly bad year for fatalities in Ontario, and the much smaller sample size lends itself to large percentage swings. Nonetheless, jumping to a conclusion that speed limiters are the driving force behind the 2009 reduction in Ontario without considering other factors is, well, irresponsible indeed.
I don't doubt Owings' sincerity in wanting the roads to be safer places, just as I don't doubt the same in pretty well every truly professional driver out there. And since our conversation, he hasn't taken the aforementioned "study" in Ontario and run with it in any way publicly in his advocate role, that I know of — perhaps he too has realized how thin the connection between fatalities' fall and speed limiters might well be.
At once, a look at Road Safe's recently redesigned website this morning reveals this: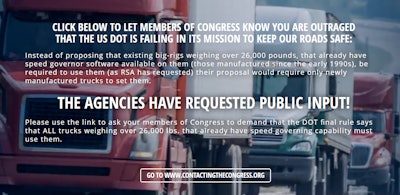 The top paragraph is a flat-out mischaracterization of what DOT is looking at with the speed limiter mandate. While vehicles going all the way back to 1990 may not eventually all be required to electronically limit top speed under the proposal (FMCSA has not determined how far back it will go, as I read it, or whether to go retroactive at all), the agency is clearly looking at requiring retroactive speed setting beyond just new trucks. From the intro to the proposed rule itself:
FMCSA is proposing a complementary Federal motor carrier safety regulation (FMCSR) requiring each commercial motor vehicle (CMV) with a GVWR of more than 11,793.4 kilograms (26,000 pounds) to be equipped with a speed limiting device meeting the requirements of the proposed FMVSS applicable to the vehicle at the time of manufacture, including the requirement that the device be set to a speed not greater than a specified speed [as yet undetermined]. Motor carriers operating such vehicles in interstate commerce would be required to maintain the speed limiting devices for the service life of the vehicle.
Ultimately, when basic facts are mis-stated, it doesn't do much for confidence in an argument. Too many in this society, however, rely on hope that receivers of such messages just have their heads in the sand, and unfortunately too many do. …