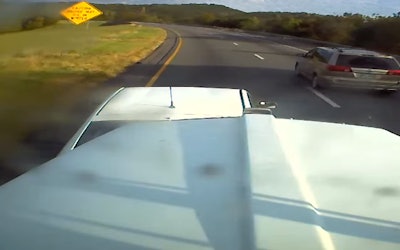 This view from the dashcam of Wisconsin-based owner-operator Howard Salmon puts to bed an accident-free period for the longtime independent spanning Salmon's 30-plus years of driving — more than 4 million miles.
What else it does: Depending on further actions by law enforcement in the jurisdiction of Lafayette, near the Tennessee and Alabama lines in the state's Northwest, it could exonerate him from a ticket for following too close issued at the scene.
Salmon was eastbound on I-24 toward Chattanooga, right at the on-ramp to I-59 South toward Birmingham. A driver in a minivan up ahead (difficult to see in the video) was sitting on the righthand shoulder on the ramp on the I-59 side. On Salmon's left, meanwhile, a woman driving a Toyota Prius was beginning her move around Salmon's rig.
As Salmon saw the minivan start its way across the I-59 ramp, then slowly across the median separating the ramp from I-24 East, "my instinct was, watch the left lane, watch the left lane," where the Prius driver made her pass.
When she cleared him, and as the minivan driver (maybe 50 yards ahead of him) moved into his traffic lane, "I moved over" into the left lane as quickly as possible to avoid the minivan as it began to pull out. However, the minivan driver rocketed out partially into the left lane himself, cutting off both Salmon and the Prius. Salmon couldn't slow the vehicle fast enough to match the dramatic deceleration that happened now in both lanes in front of him and his Kenworth, which exchanged a little paint with the rear of the Prius.
"There was nothing I could do" to avoid the accident that he didn't do, he says, beyond a lot of what ifs. "My bumper was destroyed":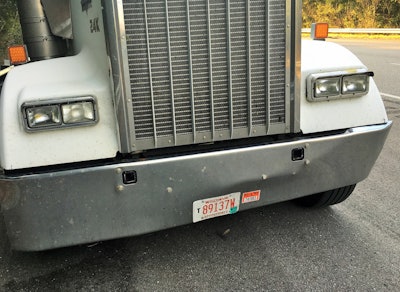 As for the Prius, it won in this case. "It might have had a little ding on the bumper," he says: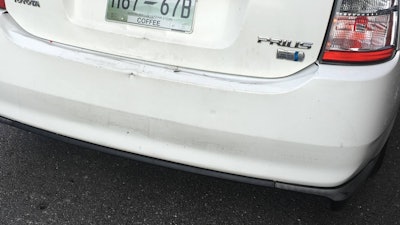 Despite concurring on versions of events in the accident in conversation with the officer — both Salmon and the Prius driver, he says, blamed the now long-gone minivan's reckless behavior for the collision — Salmon was cited for following too close. "Can you believe that?" he says. "I try to prevent an accident, and I got the ticket. I'm going to go to court on that one."
His court date is set for the second week of November. Stay tuned.
Click here to view more Dashcam Central videos.