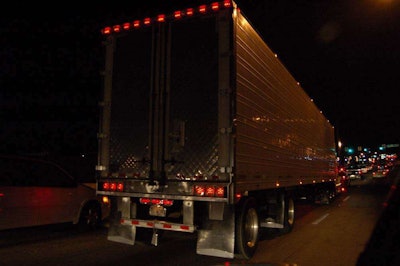 File this one under corrections, folks. Last week, as part of the Voices-section discussion of the issue that will no doubt get more prominent as hours are increasingly recorded (and enforced, to an extent) with electronic logging devices — just what to do if you run out of hours at a shipper/receiver location where you can't stay after an extensive delay — I made the following statement: "Personal conveyance use in the hours rules is explicitly limited by regulatory guidance that requires personal trips to be unladen — without a trailer or load."
Russ Hoffman, Safety Director for Total Package Express Inc., wrote in with a question:
Are you sure that Personal Conveyance requires that you not have a load or trailer? I believe the regulation is Unladen (unloaded) with an empty trailer being acceptable.
Hoffman is right, though I know I've been told by some in enforcement in the past that just having a trailer can be grounds for a violation if you're driving off-duty as a means of personal conveyance. As I noted in my response to Hoffman, however, by the letter of the law, he is correct. As long as you're empty and the purpose of the trip is outside the stream of interstate commerce — off-duty driving with an unloaded trailer, say, to go to the laundromat or to get a bite to eat should unquestionably not be a violation.
If you're leased or a company driver, as I noted before, using e-logs, the fleet administrator will have to enable personal conveyance — off-duty driving mode — via their administrative account in order to enable it. Richard Wilson of TCRG Consulting, asked again about this today, stresses that avoiding the possibility of a violation while using personal conveyance will be a matter of using the truck for a purpose the allowance was intended for. Personal conveyance in the hours rules is "not for extending a day, it's for convenience to do the normal stuff you would do if you were home."
Here's the guidance for personal conveyance from FMCSA itself, stating it can be used when …
a driver is relieved from work and all responsibility for performing work — time spent traveling from a driver's home to his/her terminal (normal work reporting location), or from a driver's terminal to his/her home, may be considered off-duty time. Similarly, time spent traveling short distances from a driver's en route lodgings (such as en route terminals or motels) to restaurants in the vicinity of such lodgings may be considered off-duty time. The type of conveyance used from the terminal to the driver's home, from the driver's home to the terminal, or to restaurants in the vicinity of en route lodgings would not alter the situation unless the vehicle is laden. A driver may not operate a laden CMV as a personal conveyance. The driver who uses a motor carrier's Commercial Motor Vehicle (CMV) for transportation home, and is subsequently called by the employing carrier and is then dispatched from home, would be on-duty from the time the driver leaves home.
As for the reality that Jeff Clark, commenting under the prior story (and I'd say he's right), notes — "Maybe the ELD is not the problem, but taking 8 hours to load or unload is" — a reader commenting only as Tim suggested another potential fix, this one for the hours rule itself:
Sleeper berth needs to be pulled, as off duty is off duty, and change the 14-hour rule to no more than 14 hours combined in a 24-hour period. While loading/unloading, a minimum of 15 minutes needs to be shown. Problem solved. Still isn't a level playing field but so much closer to it!
Thoughts?