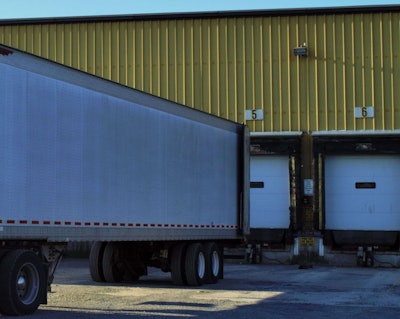 Chicago-area small fleet BH Global Logistics had one its drivers run into a situation that's yet another of those any owner-operator who's spent any length of time waiting to load or unload at a grocery facility will be particularly familiar with. For all the talk of peace and understanding at the docks in the wake of the ELD mandate, at yet another shipper that might have been deserving of the "shipper of last resort" moniker I proffered in reporting on Old Time Express' situation at one in particular, there's some evidence that suggests hope for a change.
But it didn't look so good to start. The BH Global driver was late for an appointment by less than an hour. The reason?
"Our driver was on his way to pick up, got a flat tire, and after repair was late," BH's dispatcher noted to us in an email late last week. The distribution center personnel, then — again, 45 minutes, that's all — "refused to load because he was late. Not taking into consideration a flat tire, safety, their customer who was waiting on cargo, nothing. Just flat out refused to load" the truck.
The driver then, of course, waited two more hours at the shipper "till back offices figured out a solution, which was next-day pick-up."
As BH Global noted: "In every other scenario that would be the end of it for us. We lost time, money, load," and the driver was "mistreated."
But this time was different, for the actions of the — gulp — broker on the load, who intervened with the her consignor as well in defense of the carrier."
Here's the rest of the carrier's message, edited slightly for carriers:
As you know, every day in a trucking business can be challenging for any carrier, but especially for a small trucking company. From truck repairs to road conditions, dealing with brokers and shippers tops the difficulties list.
But this time was different. We didn't get back our time, or a load, but we got a bit of our dignity restored. That sometimes matters more than anything else.
After all of that, we received a phone call from broker Sherryl McGuire, of CFM Logistics, and a consignor, Kelly McBride, a buyer for Save-a-Lot Stores, apologizing for bad treatment that our driver experienced at their shipper.
Yes, you are reading this right — they took time out of their day to call us, and say that it was unacceptable how our driver was treated, and that they appreciate our work.
After so many miles run over the years, this was a first time ever that we received an apology. That we were treated the way we should be treated.
With any luck, such attitudes continue to proliferate, and help more people avoid the underlying issues in the first place. Credit given where credit's due — it's important to recognize the good ones.