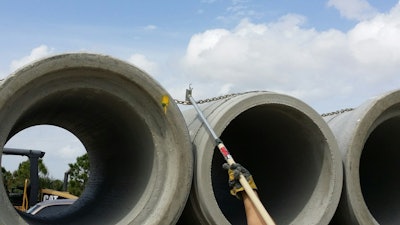 Five months into his tenure hauling flatbed as an owner-operator leased to New Line Transport out of Orlando, Fla., Ricardo Flores well understood the risks associated with load securement. In the flatbed segment, falls and other accidents are too common with all the tarps, straps, chains, strap corner protectors and V boards involved. Flores had plenty of trucking experience with other materials and tariler types, 20 years as an owner-operator both in Puerto Rico and Florida, and the flatbed experience and potential for injury unnerved him.
Particularly problematic was the often-high-in-the-air placement of strap corner protectors — and while he'd seen a lot of drivers using an improvised tool constructed from a PVC tube with a slotted T at one end, it had a very limited utility, being relatively fragile and insecure, and breaking quite often. As Ricardo Flores' father, Epifanio, tells it, Ricardo came to him with the notion of coming up with a better way.
The end result, Epifanio Flores says, is the Gavase Tool, named after and "dedicated to my grandchildren: Gabriela, Valeria and Sebastian" and better safety for flatbed haulers securing loads.
The process of building and, ultimately, patenting the tool took some time, and along the way an initial prototype appropriate for installing strap corner protectors morphed into one with multiple functions, Epifanio says. At the instigation of his owner-operator son (now leased to Landstar), Flores designed it to further "handle chains, plastic or metal protectors, plastic or wood V boards," and more.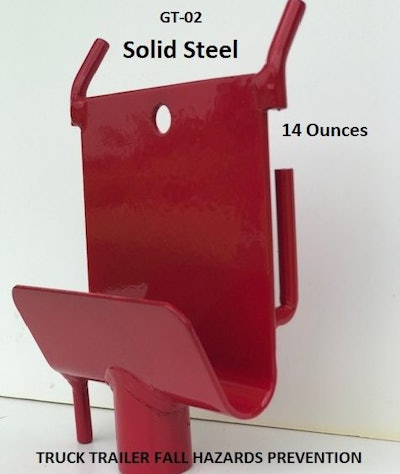 While there are a couple other tools out there and available for similar functions but with some moving parts, this tool's multifunction capabilities and solid steel construction make it unique, Flores says. As noted, he and Ricardo went on to patent it, and it's available now through the company's website for $37.95 plus around $8 shipping. (Bulk prices minus shipping charges are also available — they've seen some success with prominent flatbed fleets fairly quickly, Flores says.)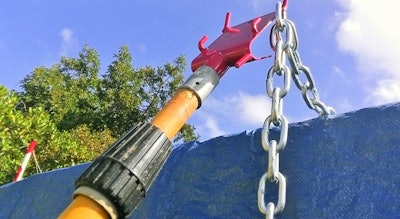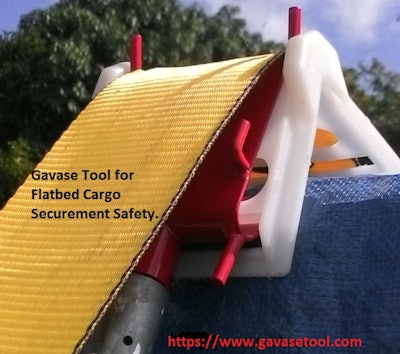 Bonus: It can be helpful around the house as well, Epifanio says, for such uses as "the installation of lights on tall Christmas trees, light objects in high places while another person secures them — picture frames, electric wires, beams, lamps and etc. It also facilitates the delivery of tools to another person in high or difficult-to-reach places."
Find more via the company's website.