Mike "Mustang" Crawford will be familiar to longtime regular readers. Our owner-op of the year a decade ago, Crawford's still truckin' with authority as Mustang's Truckin' in his 1994 Freightliner, with 3,571,916 miles on the odometer as of mid-last week. I caught up with him while he was stopped at Neely Coble Freightliner here in Nashville to pick up parts.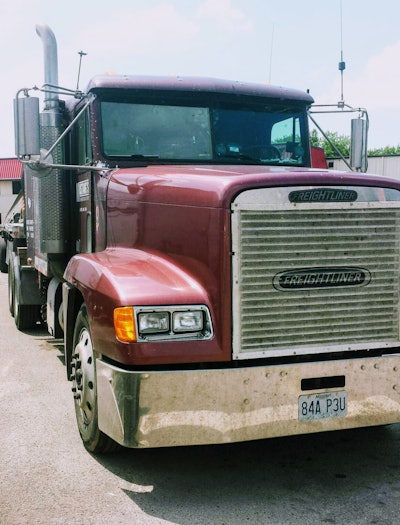 In addition to the regular check-in on families and the like, we talked parking. With the congested situation at so many exits in truck-heavy areas since the ELD mandate came into play, Crawford's been using the "get-on ramps more and more, he says. "It's easier than trying to get into the truck stops" often enough, where reserved spaces have likewise proliferated.
He's got a good friend who's utilized the ability to reserve space now and then, and during a brief trip into a truck stop lot mid-afternoon in Leroy, Ill., recently, Crawford was walking back to his truck getting ready to leave when he noticed another hauler easing a rig through the lot, clearly looking for a space. He thought about a conversation he had with the friend. "I was joking around after he reserved a spot once: 'When you get ready to leave, holler at somebody and see if they want to buy it from you.'"
Crawford waved at the trucker looking for a spot at the truck stop in Leroy, seeing all the while that the lot was filling up pretty fast. "I thought, 'Why not?'" he says, and proceeded to tell the trucker he was going to be leaving pretty soon himself, but he'd leave right now for $5. "They're charging $15 for the reserved spots on the other side of the lot," he said. "For this nice, easy parking space, give me $5 and I'll leave right now for you."
The trucker squinted at him, not sure whether this was a joke or not. Crawford's not so sure himself, truth be told, but to his ultimate surprise he did leave the truck stop that day $5 richer, he says, from the front lines of what may well be a new underground driver-to-driver courtesy tip market for the limited space out there.