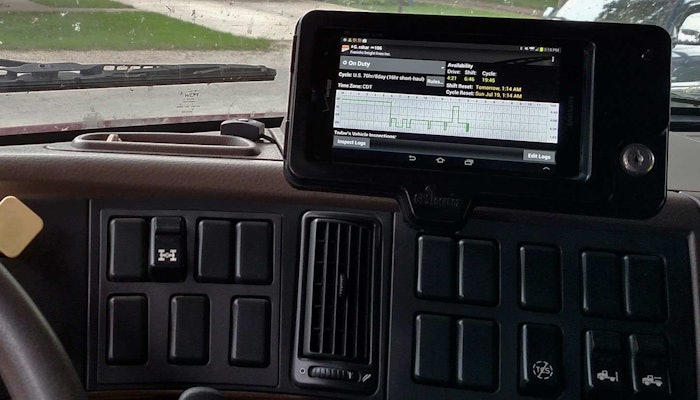 After my most recent post to Channel 19 on Tuesday, I heard from Doug Fry, safety director for a 200-truck fleet, in response to my query about the transition experience of small fleets and owner-ops when it comes to the deadline for longtime users of previous generation e-log equipment — known as Automatic Onboard Recording Devices, or AOBRDs. The Dec. 17 last-permissible date for AOBRDs requires trucks outfitted with them to be by the 18th compliant with the electronic logging device spec. 
For many owner-operators using common bring-your-own-device-type e-log applications like BigRoad or KeepTruckin, the switch may be as simple as a toggle between the two modes in the administrator dashboard. For a fleet like Fry's, which went to e-logs well before the Federal Motor Carrier Safety Administration even announced the current ELD rule, it's required a total reassessment of strategy. 
Contrary to what some legacy e-log providers told us ahead of the mandate about updating then-current equipment to comply with the ELD spec, Fry's found that simple over-the-air software updates haven't been able to do the trick, for several reasons. An equipment investment, retraining of staff and drivers on edits and new protocols, have begun to follow for the company. Here's his well-considered note:
While I can only speak for myself, there were a number of issues that kept us on AOBRD devices until now (we're upgrading our trucks as we speak). The first, and probably most important, reason it has taken us this long is that most providers of AOBRDs were grossly unprepared for all the technical specifications that came with the ELD regulations. Basically, the infrastructure of the older AOBRD systems couldn't necessarily allow for a simple fix such as an over-the-air software update. We found out from our provider that none of our already installed equipment was ELD ready until new software could be developed that was compatible with Microsoft Windows CE. To make matters worse, since Microsoft discontinued support for Windows CE last year, the software was only going to be a temporary Band-Aid and we would need to change all of the in-cab displays within a few years. Essentially, only the newest displays that had been designed around the Android operating system would be viable long-term.
Displays, though, were only half of the issue. The OBC (Onboard Computer) that is tethered to the truck's ECM were also going obsolete, as better than 90% of the ones we had purchased and installed were not 4G LTE devices and the shutdown of the older [3G] CDMA networks was going to leave enormous gaps in coverage where the vehicle would be unable to communicate. Even with volume discounts from our provider, we were still looking at nearly $1,000 worth of new ELD equipment that would have to be purchased. (For a 200-truck fleet, that's a heck of a hit to the bottom line.) Each truck would need spend time in the shop having the equipment switched out (vendors charge extra to install the equipment they sell).
Lastly, as you pointed out in your article, ELDs have very strict rules for how and when the system begins recording time. They also have very strict guidelines for the transfer of ELD data when requested by an inspector, strict guidelines on documentation, and they move responsibility for log edits back to the driver (most AOBRDs lacked this functionality). All of this means retraining our entire workforce, both drivers and office staff, on the new requirements. Frankly, that can be a bit overwhelming since most have grown accustomed  to systems currently installed.
So having said all that, the opinion I have reached is that carriers like us paid a heavy price for jumping on the e-log bandwagon years before the FMCSA actually published any regulations mandating the use of such devices. And legacy providers took it on the chin too, since lots of customers like us are taking this opportunity to make a change to new providers offering better services at a better value. When you're forced to invest in all new hardware anyway, what difference does it make?
If that sounds familiar, are you, too, contemplating a provider switch ahead of the December deadline? Have you had to invest in new e-log equipment otherwise?