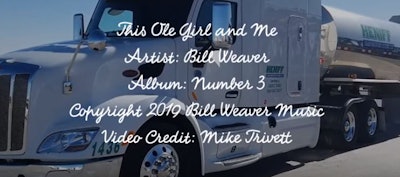 "We've been everywhere," Flippin, Ark.-based liquid-bulk tank owner-operator Bill Weaver sings in the chorus of a slow-rocking new single, "This Ole Girl and Me." It's what it sounds like — a love song, but it's not about the significant other along for the ride or holding down the home office but rather the rolling companion of every truck driver, the one that's "kept me safe and warm," Weaver sings, that's "heard me laugh, … heard me cuss," that's "held onto the road for me the night my mama died."
Weaver's paean to the special relationship between the highway hauler and his equipment is one of several singles he's released in recent times, all building up to a new record he says will see official release at the Mid-America Trucking Show next year, though most all of the 10 songs on it will be available earlier than that via online streaming and purchasing services.
That's where Morganton, N.C.-based McFarland Trucking driver Mike Trivett found the new track — he liked it so much he put together a video for it featuring stills and rolling footage that Weaver then added to with pictures of his own 2016 Peterbilt 579 and the 2015 model of friend and fellow owner-operator Robert Greene, who inspired some of the song's lyrics.
"Mike did a fanastic job" on the video, which you can see above, Weaver says. On Facebook, where it was originally published, it's gone semi-viral, of a fashion, clearly striking a chord in the trucking audience.
"Hell, we all love our trucks out here," Weaver says.
The new record, Weaver's third over the last five or so years, will be called "Number 3," simply put. When we talked yesterday, the tanker yanker was fresh of cutting two of the last featured tracks at Leon Everette's studio in South Carolina. They're covers of classic Everette tunes, in fact — "Just Give Me What You Think Is Fair" and "I Could'a Had You."
As has been chronicled in these halls before, Everette and Weaver became friends after Weaver, a big fan of Everette's music going back to his childhood, connected with him online and the pair subsequently performed together at the Great American Trucking Show in Dallas last August.
"He was just always a great hero of mine" musically, Weaver says. For the owner-operator's own music, "My main thing is I just love to write and I love to get the work out there. If it goes no further or if it stops today, I've already lived a dream out here. I can't thanks these drivers enough for listening."