Don't try this at home -- anybody's home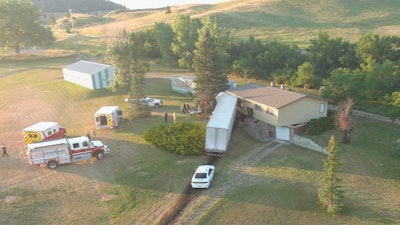 "It happened on Dickson Drive, within the city limits of Sturgis, 6:17 a.m. Wednesday," said Tony Mangan of South Dakota's Department of Public Safety. The rig, a 2020 Volvo pulling a van, was "eastbound on Interstate 90, near mile marker 32, when it left the roadway to the right. The semi-truck and trailer entered the south ditch, traveled through a chain-link fence, across Dickson Drive and entered private property when it went through a yard and struck the front of a residential home."
Both operators in the unit, described as a 68-year-old female with a 63-year-old male passenger, were treated for minor injuries, according to Mangan, thankfully nothing major. As for the home's occupant, a lone 74-year-old male, no harm came to him, but "work is ongoing to stabilize the house and remove the semi-truck."
Mangan noted charges are pending against the driver, who drifted a considerable distance off the highway before striking the house, which visibly shifted the entire second floor off the framing.
Freak accidents happen, but hey, we can all use a reminder time to time to keep alert and on top of maintenance -- you might just avoid a sudden entry into the household goods moving business.
How not to work your air lines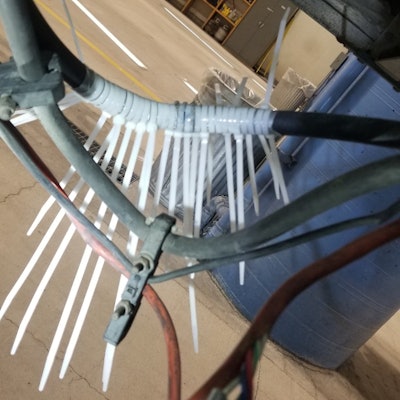 With CVSA's Brake Safety Week right around the corner on August 21-27, now is as good a time as ever to check out some of the more obvious mistakes made when working on brake lines.
The California Highway Patrol said the following about the above picture: "Although we all love the versatility of zip ties, this doesn't qualify for an approved repair or connection for an air brake system." Donner Pass inspection station personnel then shared a second picture of a connection you can see at this link, showing "what you'll need to remain in compliance when driving a commercial vehicle with air brakes."
Yet commenters under the post to the inspection station's Facebook page called out one of the hoses in that particular picture, given it appeared visibly cut, an "out of service condition," one commenter suggested. Said another: "And chafing."
[Related: The toughest states for brakes-related enforcement, 2022 update: Get prepped for Brake Safety Week with these tips]
Brake hose chafing will be a focus of the brakes blitz.
Iowa DOT's Motor Vehicle Enforcement then shared an apparent ambitious trailer brake air lines repair -- or maybe delete is the better word for it -- that similarly did not make the cut.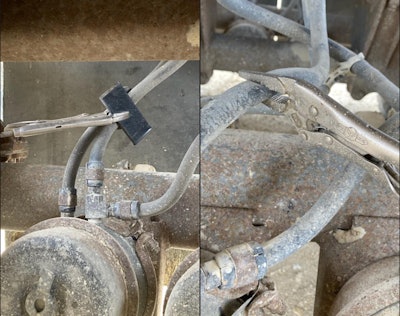 "Just so we are on the same page here," Iowa DOT wrote. "Vise grips, while being a fantastic invention and useful in many applications, are not supposed to be clamping off air to your trailer brakes (or any other brakes). It is worth noting that not a single brake worked on this trailer. We are all happier and safer when you weigh 70,000 lbs. and your trailer brakes actually work."
For further actually helpful tips on air brakes, peruse the collection of brakes- and other related coverage this link.
[Related: Stay ahead of the inspectors with maintenance-related coverage in Overdrive]