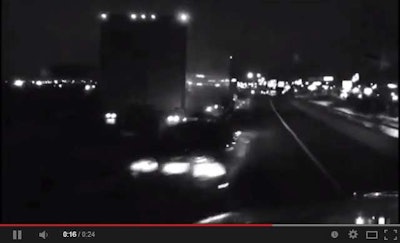 Arkansas-based driver Libby Clayton, a finalist in our Most Beautiful contest earlier in the year, sent a video our way documenting one of the more egregious instances of aggressive driving by one of our four-wheeled friends that she's seen recently.
Captured on her dashcam, the incident occurred during one of Clayton's typical night hauls on "I-35W southbound in Fort Worth," she says, the night of Wednesday, December 4. "I could see in my mirror this car was one of the ones that just couldn't stand to wait while" a truck passed Clayton in the left lane. The car "came up on us fast and rode the other truck's bumper."
He was "in too big of a hurry," says Clayton, as you can see in the video.
[youtube 8uYbt7DuwC8 nolink]
If it'd gone another way, the accident, "could've involved all three of us," says Clayton, "plus those behind us."
In the end, though, this one turned out OK. "All went on down the road."
Stay safe out there this weekend.